Elton, you've done it again!
Just last week, Elton John took the stage at Petco Park for one night on his "Goodbye Yellow Brick Road" tour. This tour contains Elton's final performances of his career in the United States, before he travels back to Europe to perform the shows that had to be canceled in light of Covid-19. It was a bittersweet moment; knowing that he will never perform again yet understanding that he desires to live out the rest of his life with his family.
This show was one of the best musical performances I've ever seen. Even at 75, John has one of the most commanding voices in the industry. His voice is powerful and clear, able to captivate an audience of thousands of concertgoers. I was moved to tears by many of his songs, tunes that still are heard and celebrated even decades after their conception. It was beautiful to see an audience filled with a variety of age groups, as there is something for everyone to enjoy within his music.
Even as entertaining as the concert were the costumes of individuals in the crowd. Elton's music and fantastical way of dress inspires his listeners to do the same when attending his concert. Among my favorites were a man dressed as a crocodile (inspired by the song Crocodile Rock) and a woman paying homage to John's iconic feathered outfit with a look of her own! It was amazing to see the ways that people are constantly inspired by his timeless music.
To sum up, Elton's performance in San Diego was exemplary. I am still so grateful that I had the opportunity to hear these amazing songs performed by one of the greatest artists in music history in person. I would encourage everyone to try to see John in concert before his tour comes to an end, and if not that, then to listen to his music a little bit. For his influence on the music world, his legacy, is one that will continue long after he stops performing.
View Comments (1)
About the Contributor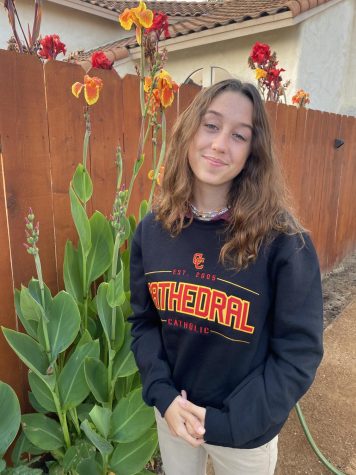 Ella Bloom, Staffer
Ella was born in San Diego, and currently resides in Carlsbad. She is the Arts and Entertainment Editor of El Cid, and senior at Cathedral Catholic. Her...