What is Amélie?
What is Amélie? Have you heard of it? If you have, you are probably in the minority, based on the reactions to the 2023 Cathedral Catholic Drama shows for the year. Amélie was announced to be the winter musical then Cinderella as the spring musical.
With Amélie as the winter musical, the show dates are upcoming in the new year on February 7,8 and 9th.
Ms. Wilson is so excited to be directing Amélie, and after speaking with her, she expresses, "It's different, unique, a first chance to do a show that no other high school in San Diego has ever done and I love that, I love being the first."
For a bit more on Amélie, it's based on a romantic comedy from 2001, with the same name, and debuted as a musical in 2015. Amélie opened on Broadway shortly after in 2017.
Furthermore the basic plot is as follows: Amélie, a girl in Paris, grows up with a tragic and isolated childhood, and by chance finds the box of a child in her apartment. In her attempts to return the box she influences the lives of those around her.
Another point to mention is that along with the first play of the year, Lost Girl, a pattern of performing newer plays and musicals emerges at Cathedral.
For Lost Girl, as a school we were one of the only schools to have done it, and according to Ms. Wilson, now a trend of a few other schools performing it as well, is emerging. Such as at San Dieguito High School Academy, which is performing Lost Girl November 9 though the 12th.
Ms. Wilson shares some of the benefits to being the first, and how she "think(s) it's great. No other theater in San Diego has done Amelie, so we are absolutely the first, we are also one of the first groups to use a newer version of the show…specifically for use in high schools and approved by the authors."
This is a unique opportunity to take on a new and upcoming musical once again, and Cathedral is so excited for the opportunity.
Leave a Comment
About the Contributor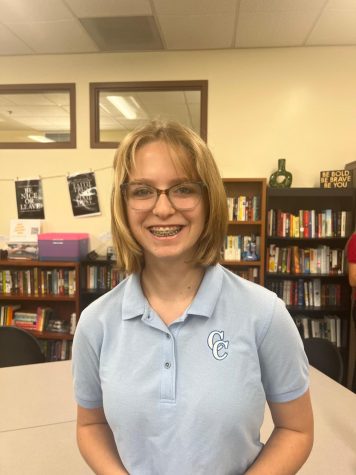 Chase Stern, Staffer
Chase Stern is a sophomore at Cathedral Catholic High School and is from the San Diego/Los Angeles area of California. As an aspiring journalist, she enjoys...