Surf's up, Dons!
Anyone looking to beat the heat on a sunny weekend in San Diego would have loved the "Surf-Dog-Surf a Thon". Held at Del Mar dog beach on September 18th, pups and their owners had some fun in the sun, with a little competition mixed in.
This day marked the 17th annual competition for these dogs, many of which come back year after year to ride the waves. The dogs who participate are judged on their enthusiasm while riding the waves, as well as the time they are able to stay on the board. This is the judge's way of encouraging fun for the dogs, while mixing in some competition protocol.
I remember the first time I attended this annual event, which happened to be around 5 years ago. It was such an incredible experience being able to watch these dogs on the waves. It's strange to say, but these dogs have a true talent for surfing. Seeing dogs accomplish this feat, this activity that is normally dominated by humans, was especially unique. I can't wait for next year, when I have the chance to watch this event again.
Even more important to me than surfing was the cause that this event raises money for. Since the event is put on by the Helen Woodward Animal Shelter, vital funds were raised to help orphaned animals and keep necessary programs going at the shelter. There was even a special ceremony held in honor of shelter pets across the country. It is so special that this event is headed by an animal shelter, and the focus of the day is for animals who are less fortunate.
This cause brought animals and people together, bonding dogs with their owners. I think it was the perfect way to express the unconditional love that pets and their people have for each other.
That's all for today, Dons! Make sure to give your furry friends at home a little more love today, and be grateful for the joy they bring us!
Leave a Comment
About the Contributor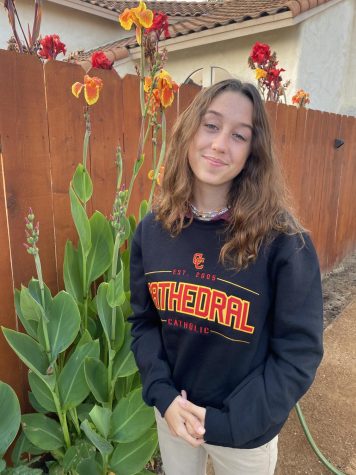 Ella Bloom, Staffer
Ella was born in San Diego, and currently resides in Carlsbad. She is the Arts and Entertainment Editor of El Cid, and senior at Cathedral Catholic. Her...