September Movies
Calling all movie fanatics – this September is loaded with new titles. With dozens of release dates from long awaited movies, September is a film lover's dream.
There are a variety of genres. From thrillers to biopics, and even a live action twist on an animated film, there is truly something for everyone in the theaters this month. Without further ado, let's explore these new titles!
Directed by Olivia Wilde, "Don't Worry Darling" takes the cake for the most heavily anticipated film on the screen. On September 23rd, fans can truly see the story brought to life on screen. Starring both Harry Styles and Florence Pugh, what's not to like? As a psychological thriller, this movie explores the idea of a quintessential society that is ultimately plagued by flaws and imperfections. Set in the 1950s, Frank Chambers (Styles) and Alice Chambers (Pugh) play house within this seemingly glamorous world, as Alice begins to decipher the horrors of it. I, for one, am looking forward to seeing how Wilde builds suspense and develops the characters in this film.
Fans of titles such as "Rocketman" and "House of Gucci" will love the introduction of another biopic to the screen on September 8th, one inspired by the story of Marilyn Monroe herself. Blonde stars Ana de Armas, who brings a stunning perspective to the historic beauty that was Marilyn Monroe. In the genre of drama, this film not only explores Monroe's rise to fame, but also the ultimate demise of one of the brightest stars to ever shine in Hollywood. I anticipate a great movie from the mind of director Andrew Dominik.
Lastly, but certainly not least, the world of Disney contributes to the plethora of movies coming to the screen in September. Also released on September 8th on the Disney+ platform is a live-action adaptation of "Pinocchio". As many may recognize, the story of a wooden puppet who dreamed of becoming a real boy. A family favorite from decades ago, Disney is breathing new life into a timeless film. It is set to star some familiar voices such as Tom Hanks (Gepetto) and Joseph-Gordon Levitt (Jiminy Cricket). Now all that is left to do is wish upon a star, that Disney's newest film is as engaging and promising as the trailer.
In summary, September is a month for cinephiles. The variety in genres, direction, and style make each of these movies so unique, and worth a watch. With new blockbuster movies such as "Don't Worry Darling", "Blonde", and "Pinocchio", make sure to hit the theaters and grab your popcorn before the spoilers are out!
Leave a Comment
About the Contributor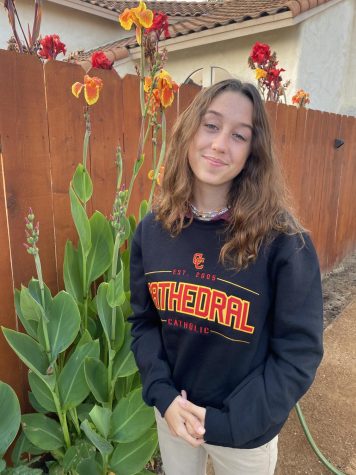 Ella Bloom, Staffer
Ella was born in San Diego, and currently resides in Carlsbad. She is the Arts and Entertainment Editor of El Cid, and senior at Cathedral Catholic. Her...