The Influencer's Influence
A form of entertainment, a chance to meet new people and a profession? With the rapid rise of social media platforms like Tiktok, Instagram, Facebook, influencers have been gaining popularity across the world. 
As social media influencers gain the public interest through their content on social media, companies often partner with them to spread their products for consumers to buy. This in turn boosts companies' products and influencers get paid.
Some influencers even start their own business and promote their products through social media to their followers. This process of influencers starting a business usually has fewer startup costs because it utilizes social media for publicity and can be facilitated from their home.
Influencer Emma Chamberlain, who began creating content through YouTube in 2017, exemplifies how becoming an influencer can be a profession.
Now with 11 million subscribers on YouTube, Chamberlain is an entrepreneur for her own coffee brand, Chamberlain Coffee, started her own podcast, Anything Goes with Emma Chamberlain, and has numerous partnerships with renowned brands like Louis Vuitton and Pacsun.  
Chamberlain, who once started as an average teenager on YouTube, flourished in her profession as an influencer and became someone that many people look to for advice, comedic relief, or even entertainment. Chamberlain's authentic career has given her the influence she needed to make her millions of followers willing to listen to her. 
With about 50 million people in the world calling themselves influencers and creators, there is a creator economy based around these influencers and the businesses they have built. 
In the past year, the creator economy has raised 1.3 billion dollars by creator-focused companies.
Through creating new job opportunities on social media, influencers help the economy grow.
Increasing amounts of people have been encouraged by the rise in the use of influencer marketing to leave their jobs in hopes of becoming a successful influencer. As more people continuously try to become influencers, the competition between influencers continues to grow.
The downfall of becoming an influencer may not be seen through the romanticized version of creators' lives on social media.  
Typically seen on social media are the successful influencers who are already making a living through this profession, but in reality this job does not guarantee job security. 
Not only do you have to create something that would give you recognition on social media, influencers have to continuously make engaging and interesting content for viewers. 
To add on from another side, influencer marketing can have its ups and downs. Influencer marketing involves influencers endorsing and advocating for a brand. 
While influencer marketing can help expand one's business to viewers, high risk is involved when it comes to choosing the right influencer to promote businesses. 
The risks of becoming an influencer range from "cancel culture" to not even gaining followers. 
Cancel culture is the process when someone gets "canceled", or prevented from having an eminent career on social media. 
This idea of canceling someone usually starts when a public figure does something offensive and receives backlash from the public. It is a cycle of repetition that the majority of influencers go through at some point in their career.
Through the change that social media is imposing, the world is changing along with it. Influencers are becoming a more tried profession throughout the world and as a result, economic changes are being made with it.
Leave a Comment
About the Contributor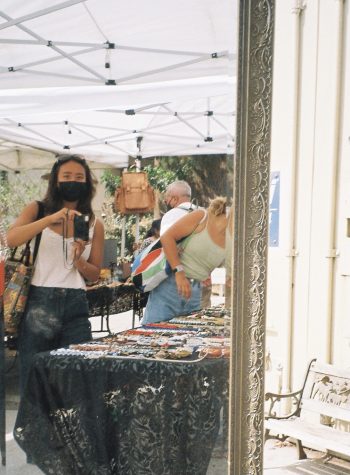 Hannah Wong, Staffer
Hannah Wong is a part of the staff of El Cid Online. Hannah enjoys cats, cat games, and cat drawings. This is her first year as a staffer and she is more...