Pivot to Spotlight
Cathedral Catholic High School's drama production has been deprived of an in person theater performance for almost two years. Just like everyone else, the cast and crew had to find a new way to express themselves and participate in what they love. 
With lower cases of Covid-19 and a more controlled setting, a new production is about to hit theaters globally, and Cathedral has decided to participate. Music Theater International has called upon amateur theater groups and challenged them to perform a production called All Together Now. 
Emma Powell, a sophomore at Cathedral, is new to the drama tech team this year. She had to learn all the tricks to tech, and do it in a way that has never been done before because of Covid-19 
Powell has a love for theater but is  "not the most theatrical" and she wanted, "to be part of it in a different way."
She does believe that there has still been a benefit to what the class has offered this year, and is glad she pushed herself to join. However, joining did leave her guessing how much in person tasks she would participate in.
Although there are a number of returning members, "It can be hard to be new and learn things from people who are learning themselves about how to teach others." Powell had to trust the process when it came to the quality of teaching she would receive. 
The jobs that this year's production requires have not changed, and may have even intensified with the back up from last year. Without any drama productions happening, Cathedral turned their theater into a temporary storage room, but the tech team were faced with the challenge of cleaning everything out in time.
Powell says, "The hardest task has been carrying out all the boxes, and moving heavy items around that have nothing to do with the production."
She expresses frustration with the tasks, but also acknowledges that it is a part of the job. The biggest help to combat the labor and stress has been the guidance of returning crew members. 
One of the standouts was Ava Rusnak, a senior at Cathedral, that Powell describes as, "a really sweet mentor who has guided me to the best of her abilities." Many veterans take on the role of welcoming and guiding members, but the most important person behind everything has been Ms. Katie Wilson. 
Ms. Wilson is the dramatic arts teacher at Cathedral, and has been constantly praised by her students for her positive attitude and flexibility in teaching. She also called the shots on Cathedral's participation in All Together Now.
With all the negatives that happened last year Wilson says the production, "Is the perfect way to celebrate the return to live theater."
All together is the start to what many on social media call #intermissionover, and it will be a chance to celebrate the return to stage, and theater classics. Every group that participated in the production was able to choose 14 out 35 songs to perform. 
Unfortunately, before choreography numbers and songs could be rehearsed, the school needs to make the official 'ok' based on the safety measures that needed to be taken.
Wilson has been constantly communicating with the school administration to create the safest environment for the students and audience who plan to attend the production. The current plan is to use the school theater, but the capacity will be limited to 200 guests. 
The risk of an outbreak could happen anywhere and Wilson made it clear that, "In a Covid world we have been conditioned to pivot constantly, but this was a decision I made to take on."
Aside from the Covid-19 protocols, she had to prioritize a way to keep her cast and crew motivated through any setbacks. 
Wilson was able to acknowledge how, "One side is full of excitement and energy, but on the other hand we have fallen into this sluggish lifestyle."
The cast and crew have had exhausting physical labor to set up the sets, and all the new and returning members had to be reconditioned to rehearse.
The upside of this has been what Wilson calls "the new blood and secret sauce". Over half of the crew is freshman who were willing to take on the challenges of this year's production.
Wilson can see how much of a difference their energy has made, and their willingness to help combined with the leadership of the returning members and veterans has kept everyone's spirits up. 
Performance times will be a little more unusual than last year, which is not a surprise to say the least. There will be three Saturday performances, and the following week there will be two Monday and Tuesday performances.
It may seem like a weird schedule, but Wilson says it's about, "experimenting with new performance times like the professional broadways in the world."
The cast and crew are still ready to take on any last minute challenges, but their biggest goal is the audience attendance. Getting 200 people in the middle of the weekday is what they dream of, but after two years without any audience, anything will do. 
In spite of everything that has happened, Wilson says "As selfish as we are about wanting to see our work and performances, we are nothing without our audience."
Leave a Comment
About the Contributor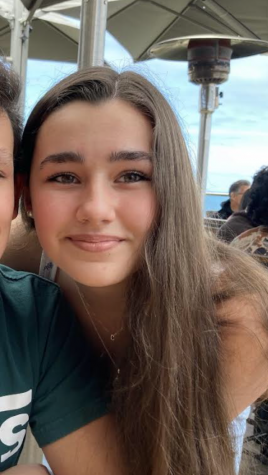 Camila Abramowitz, Staffer
Camila Abramowitz is a staffer for El Cid Online. She enjoys trying different foods, and engaging in new adventures. This is her first year in the journalism...