A mUSt see: Us movie review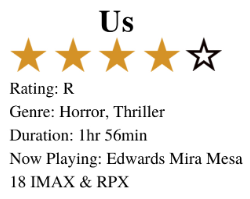 Candy wrappers crinkle and faint whispers fill the air as audiences holding ticket stubs shuffle into movie theatre rows. Soon after the lights dim, hearts begin to race, eyes squint, and bodies flinch as terrifying jump scares flash upon the massive screen. Finally, a collective breath of relief is felt throughout the theatre as credits roll upward, ending in a single, heart-stopping word, Us.
Us, a thrilling horror film written and directed by Academy Award-winning Mr. Jordan Peele, was released March 22, and it continues to thrill audiences worldwide with twisted plot lines, eerie visual effects, and sudden jump scares.
The cast consists of the mother Adelaide Wilson played by Oscar-winning Ms. Lupita Nyong'o, father Gabe Wilson played by Mr. Winston Duke, and children Zora and Jason played by Shahidi Wright Joseph and Evan Alex, respectively.
As the movie begins, the Wilson family travels to Santa Cruz, California for a fun beach getaway, while Adelaide experiences overwhelming feelings that misfortune looms for her family.
Adelaide's ominous fears are confirmed when the family finds four oddly familiar strangers, each one wearing a red jumpsuit and one leather glove, standing in their dark driveway. These mere strangers are in fact dangerous doppelgängers of the Wilson family, determined to torment and terrorize their lives.
The plot creates a dynamic, horrifying nightmare, while also inspiring the title of the film because the Wilson family describes the intruders as "us".
This unique and highly anticipated storyline created by Mr. Peele attracted mass audiences to box offices upon opening, and it continues to maintain success. According to IMDb.com, Us grossed $71 million nationwide during its opening weekend, and its current cumulative worldwide gross stands at $216 million.
Us not only has attracted millions of viewers into theatres, but it also has received positive reviews. For example, Us received a 94% critic rating from Rotten Tomatoes and a 7.4/10 from IMDb.
Mr. Peele, writer and director of Us, is no stranger to success as evidenced by his 2017 directorial debut Get Out earned him much recognition, including an Academy Award for Best Original Screenplay. Get Out, Peele's first horror-thriller movie, received worldwide attention for addressing prominent the theme of racism in America, especially oppression in the southern United States.
Thus, Us seals Mr. Peele's place in the modern era of innovative, unique, and psychological horror filmmaking.
Mr. Peele's talent behind the camera along with the immense skill of his crew matched the incredible performances on screen, specifically by Lupita Nyong'o. Each of the four main actors and actresses play their respective characters and their doppelgängers, which was no easy task.
For example, Ms. Nyong'o's performance as Adelaide is extraordinary as she takes on the roles of a strong motherly leader and her doppelgänger Red, who speaks with a scary grating voice.
In order to master this voice, Ms. Nyong'o studied spasmodic dysphasia, a neurological disorder in which the muscles inside the vocal fold experience sudden spasms interfering with the production of voice, according to the National Institute of Health.
Mr. Duke's performance as the father Gabe also is noteworthy, considering he implements humor into the most tense of scenes, creating a dynamic contrast of fear and laughter for audiences.
Aside from extraordinary performances, Us's eerie sets and music as well as the theme of family added unique dimension to the film.
Throughout the movie, eerie sets, such as the Santa Cruz boardwalk and underground tunnels, create fear and confusion in audiences with strange colors and shadows.
However, the high amount of gore, blood, and violence in some of the intense and eerie scenes could have been removed without ruining the overall "scare-factor" of the film.
Music throughout the film, including "I Got 5 On It" by Luniz and Michael Marshal, various classical symphonies, and ominous whistling create a unique creepiness perfectly suited for each scene.
Us's focus on the recurring theme of family through the closeness of the Wilson family inspires theatergoers to sacrifice loved ones.
Cathedral Catholic High School student Molly Abrom '21 encourages others to watch Us.
"I would absolutely recommend Us to a friend because it is the most genius horror movie of our generation," Abrom said. "Us has the most talented actors, scariest plot line, and best soundtrack!"
Audiences who enjoy Us can also view another recent project of Mr. Peele as he hosts and narrates a modern remake of The Twilight Zone. This series premiered April 1 on CBS All Access.
Overall, Peele's genius, a unique combination of jump scares, eerie scenes, and inspiring characters evoke intense anticipation and fear into those people watching Us, leaving them sleeping with the lights on.
About the Contributor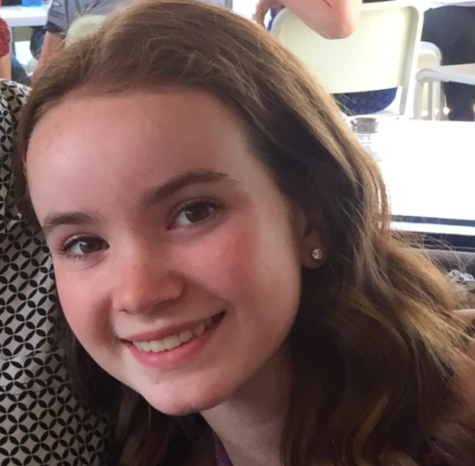 Ella Wishchuk, Assistant Spiritual Life Editor
As a sophomore at Cathedral Catholic High School, I look forward to blossoming as a young journalist and becoming a new member of the El Cid team. I consider...