Chaotic Coachella
Blazing heat, a crowd dancing to the beat, and desert camping until the sun goes down describes the three-day experience one encounters at the world famous festival in the California desert.
Every year, Coachella attracts hundreds of thousands of people from all over the world for a three-day festival full of music, art, games, and other forms of entertainment. Since its inception, Coachella has become something of a cultural phenomenon, with months of preparation going into the weekend trip to the desert.
Coachella general admission tickets are priced at $429, $509 for a general admission and shuttle ticket, and $999 for a VIP pass.
While the cost of this event is high, there are also lasting memories that can come from this musical weekend. Cathedral Catholic High School student Josephine Nguyen '19 has heard only great things about Coachella, and was inspired to attend this year.
"I decided to attend Coachella because I thought it would be a great experience senior year with my friends, as we can spend more time with each other and make lasting memories before we all separate for college." Nguyen said.
CCHS student Nicole Mullin '19 also heard about how much fun Coachella would be and decided to attend and finish off her last year of high school on a high note.
"A couple of my really close friends went to the festival last year and they said they had a blast." Mullin said. "It takes a lot of work and preparation to go but from what I've heard it's definitely worth it. There are definitely lots of tips and tricks to help have a great time out in the desert that I will be putting to use."

Coachella had artists lined up such as Ariana Grande, Childish Gambino, Tame Impala, Khalid, Billie Eilish, and many more that performed over the three days. The lineup consists of some of the most popular artists, justifying the high cost of the weekend.
While the lineup at Coachella consisted of the most popular pop artists, there were a few surprises that kept the audiences on their feet.
While Billie Eilish's set may have started late, her performance as well those done by other artists lived up to the crowds expectations.
"Coachella did live up to my expectations, but it was a lot different than I thought it would be." first time Coachella attendee Jodene Goyette '19 said. "The food was really yummy and I was a lot more tired at the end of the day than I expected. My favorite parts were seeing both Boy Pablo and Still Woozy up close. I would definitely go next year."
Elizabeth Johnson '19 attended Coachella last year and had some advice about the festival. Johnson explained that while the heat and exhaustion is very high, she made memories that she did not regret.
Kaitlin Cornell '19 said Coachella exceeded her expectations and would attend Coachella next year as well. Her favorite memory of the festival was when Zedd performed Bohemian Rhapsody, where the crowd sang the lyrics all together.
Coachella weekend two concluded a few days ago, complete with the same lineup and surprise appearances from artists such as Justin Bieber, Kanye West, and A$AP Rocky.
About the Writer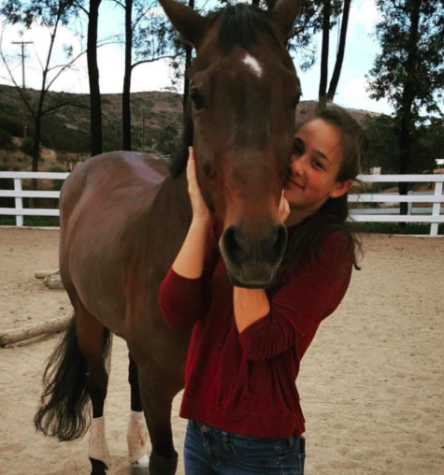 Chloe Staples, Photo Editor
During my sophomore year at Cathedral Catholic High School this year, I look forward to writing for El Cid as the Photo Editor and experiencing the writing...