Streaming strips music industry
Streaming services trigger major change in music industry with no clear solution
Vinyls, cassettes, CDs, and even songs purchased from iTunes are on the steady pathway to oblivion, with music streaming services as the culprit. Streaming not only impacts the physical availability of songs, but the musicians, producers, and record companies as well.
The instant gratification of listening to one's favorite songs without the hassle of changing the tape or worrying about storage, through streaming services such as Apple Music, Tidal, Spotify, or Pandora, unquestionably benefits music consumers. However, the little money available to the creators proves to be a downside of the streaming phenomenon.
"Streaming takes the control away from corporations to dictate what you hear," Mira Costa professor of sociology Mr. Chris Conner said. "Now someone at [CCHS] could spread music around the school in a new way like never before."
Today, musicians have the ability to release music and gain traction without waiting for a record label to sign them. Resources like Garageband allow more aspiring musicians than ever before to produce music by themselves as opposed to in an actual studio. While signed artists have their record labels distribute their work on streaming services, independent artists have the ability to post their music as well, relying on a middleman distributor to post songs for them.
Traditionally, unsigned artists would strive to pursue music professionally by playing local gigs and handing out copies of their albums to anyone willing to listen, anxiously awaiting the day they would sign with a record label that would help them gain widespread recognition for their work. If a record label signed them, they would mainly earn money through album sales.
Now, aspiring artists can post their music themselves on SoundCloud, Youtube, and Instagram — anywhere online can be a site for up and coming talent. The digital age has proved advantageous for discovering new artists.
Cathedral Catholic High School student Lizzy Cameron '19 has released four original songs on Spotify. She amassed approximately 870,000 streams before signing with the Hundred Up record label. Cameron's music, also available on iTunes and Apple Music, were recorded in the Grand Central South studio in Nashville, TN, and were produced by musician Mr. Sal Oliveri. Despite all this professionalism, Cameron does not yet have the means to work as a musician full-time.
According to Cameron, iTunes takes 50¢ off of every song of hers purchased, and only if a person follows her on Spotify does she make an eighth of a penny per stream.
According to digitalmusicnews.com, a single stream equates to $.00066481, earning an artist only $100 after 150,419 streams. The musician does not receive the entire $100; the money is divvied up among the producers, record label, and finally the artist. Self-producing artists would pocket more of this money, but high streaming numbers prove difficult to achieve independently.
Taking a stand in solidarity with unknown artists scraping to get by, famed artists such as Taylor Swift have taken their music off of Spotify. Swift feels that streaming services cheat artists out of money and rob them of their much-deserved appreciation, according to an op-ed she wrote for the Wall Street Journal.
From a consumer's perspective, streaming is a convenient, cheap, and easy way to discover new music. The weekly recommendations provided by streaming services allow for unheard artists to get played and earn recognition.
"This generation is comprised on what's trending, so through streaming services the most current and up to date music can be shared by and to everyone," avid Apple Music user Maile Spence '19 said.
The rise of social media, connecting people from all over, has benefitted up and coming artists by providing a place for free promotion.
"I promote my music through social media, mainly Instagram and Twitter," Cameron said. "I'll post the cover art on Instagram and tweet the link to buy the song once it's out. I also have a website that acts as an easy way to find my music."
Cameron also has an Instagram account dedicated to her music covers and the occasional original song.
Streaming may rob up and coming artists of the money they would have otherwise earned through traditional album sales, but social media promotions and the music discovery aspect of streaming sites help more people to jumpstart their careers as musicians.
Leave a Comment
About the Contributor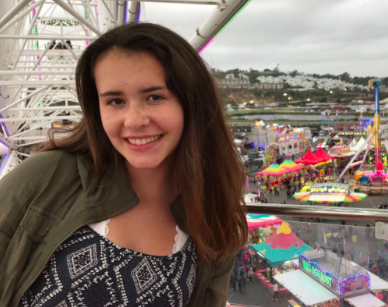 Lauren Boyer, Entertainment Editor
After an exciting year as the Photo and News Editor for El Cid, I will lead the new Entertainment section as the editor. I look forward to learning even...