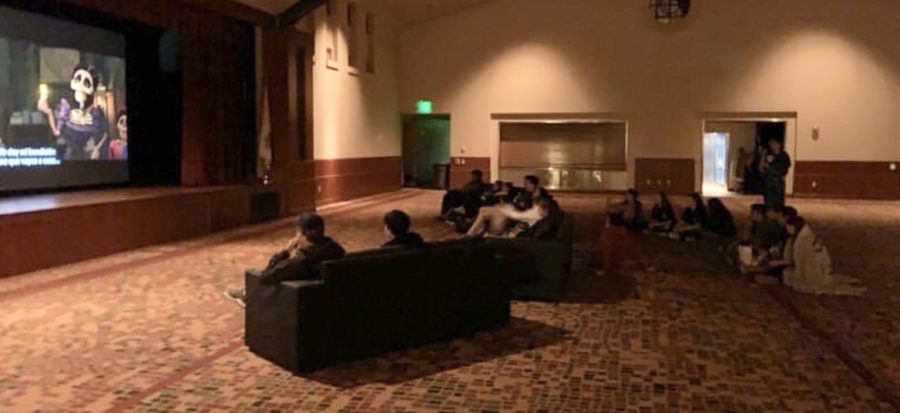 Horror versus wholesome
October 30, 2019
Halloween, despite often being labeled as a kid's holiday for its fun nature, has many enjoyable aspects for teenagers, especially in the movies created for the holiday, which can range from horror to wholesome. If you prefer to smile and laugh on Halloween night or scream in fright, there is a perfect Halloween movie for you.
Family-friendly Halloween
No. 5 Beetlejuice
Beetlejuice begins with Barbara and Adam Maitland dying and quickly realizing they are stuck as ghosts in their home, which new unbearable tenants have moved into. Despite their best efforts, they cannot scare the family away, so they invoke the help of Beetlejuice, an obviously unstable free-lance bio-exorcist. Beetlejuice creates more problems, and the spectacle of the paranormal activity leads to meddling by the living, which spells trouble for the Maitlands. 
The unique design of the ghosts in the movie coupled with absurd creatures like sand snakes creates an engaging and intriguing film. The dark themes are broken up with well-placed comedy and the overall tone is a fun but creepy Halloween classic. Beetlejuice stands the test of time as one of the most iconic Halloween movies, however its darker themes prevent it from placing higher on the wholesome list, earning a solid three pumpkins. 
No. 4 The Addams Family
The Addams Family ranks as a solid number four, with delightful characters such as a hand, homicidal children, a Frankenstein's Monster-esque housekeeper, and a creature covered entirely in long hair. Everything about this movie is wonderfully absurd, as bizarre situations compound until you are left wondering what exactly is going on. 
Gomez Addams longs to reconnect with his brother, who left 25 years prior after a disagreement between the two. When the family lawyer realizes one of the people scamming him for money looks just like the lost brother Fester, they devise a scheme to get close to the family in order to rob them blind. The family suspects the scheme, but as Fester begins to act like his old self they are blind-sided by the restraining order ordered at the command of the lawyer and Fester's mother.
The plot itself may seem basic and bland, but the execution is flawless. With dynamic characters who, for the most part, have no real supernatural abilities yet manage to baffle and mystify viewers, the storyline is wonderfully amusing and intriguing. Each small detail adds together to create a delightfully horrific film.
No. 3 Nightmare Before Christmas
Despite the fact that the word Christmas is in the title, Nightmare Before Christmas is the third best Halloween movie to watch on your spooky night. 
The movie opens with Halloween Town celebrating another excellently executed Halloween, especially praising the pumpkin king, Jack Skellington, who, despite all this, feels unsatisfied and bored with the monotonous routine of Halloween and all the work associated. He wanders into Christmas Town, and sets out to take control of Christmas for the year. His citizens, once convinced of the change, grew excited and truly did their best to make his visions a reality. Jack returns to Halloween Town to save Sally, his love interest, and Santa Claus from Oogy Boogy, a dangerous outcast who seeks to destroy all who get in his way.
Despite my initial skepticism that this movie would have more Christmas elements than Halloween, this movie was spectacularly spooky. The emphasis of Halloween was wonderfully displayed in a creative manner, which visually enticed the viewer and left them wanting more, and coupled with the amazing soundtrack that created a wonderful mystical tone, created an amazing film.
No. 2 Halloweentown
Not to be confused with Jack Skellington's Halloween Town, Halloweentown ranks just above with delightfully charming costumes, characters, and themes.
The movie begins with the main protagonist, Marnie, angry at her mother for not letting her or her siblings celebrate Halloween. Viewers quickly learn that Marnie comes from a long line of powerful witches and must begin training tonight or lose her powers forever. Marnie sneaks away to Halloweentown, a separate reality where witches, monsters, and all other creatures can live in peace.
Every character was obviously created with intense care and attention to detail, as even background characters were engaging. The early 90s mixed with mythical creature fashion leaves the viewer feeling just a little nostalgic.
Actress Debbie Reynolds absolutely killed her role and made herself everyone's grandmother through Aggie Cromwell. The characters learn the bond of family and how to use cool powers, so not much is left to be desired.
No. 1 Hocus Pocus
If you want to watch the most iconic Halloween movie, cozy up with your hot chocolate and put on Hocus Pocus. 
Straight out of 1993, this movie brings in all the best Halloween tropes with witches, black cats, and zombies, all seamlessly working together to bring mayhem and mischief on Halloween night for the protagonists Max, his sister Dani, and friend Allison. 
Max accidentally resurrects three witches, the Sanderson Sisters, who aim to obtain immortality by sucking the soul of a child before the night is over while Max, Dani, and Allison thwart them with the help of a black cat named Thackery Binx, who was a boy cursed by the witches before they were killed the first time and the zombie Billy Butcherson, who initially chased after the protagonists as a supposed ally of the witches, but ultimately reveals his hatred for the sisters.
With songs like "I Put a Spell on You" and "Come, Little Children" breaking up intense scenes, the movie remains light-hearted and fun with suspense sprinkled throughout. Meanwhile visuals such as costumes and effects are eye-catching and pleasing and the character development of Max leaves many satisfied. 
Leave a Comment
Spooky Halloween
No. 5 Paranormal Activity
If you are looking for a bone-chilling scary movie, this one's for you. Originally set in sunny San Diego, two couples move into new houses and start a family but soon, the wives learn that the demon that had taunted them from childhood, has returned for further haunting.  Not being sensitive to this information, the husband continues to aggravate the situation.
The eerie essence of the movie is accentuated by being filmed on a vintage VHS recorder. This movie is perfect to curl up on the couch Halloween night for the perfect, terrifying experience.
No. 4 The Shining
The film follows a struggling family of three who go to maintain and upkeep the Overlook Hotel during the winter season. Based on the novel of the same name by Stephen King, if you are looking for a mind-bending horror film to keep you on the edge of your seat, The Shining is for you.
Main character and aspiring writer, Jack, hopes to spend time on his writing and with his family, but it does not take long until strange events start occurring around the hotel. With petrifying shots alongside the famed soundtrack, the film creates suspense for viewers that is truly surreal. The Shining still remains one of the most notable horror movies to date. 
No. 3 The Conjuring
A family of seven moves to New England to a beautiful property that is reasonably priced and found that there are supernatural forces throughout their home. They call world renowned demonologists, Ed and Lorraine Warren, to investigate, but it may have been too late. With a mixture of songs that are suspenseful instrumental, as well as songs that are upbeat and not suspenseful at all, this movie takes you for a wild ride into the realm of possibility. 
If you are looking for a movie that tugs on your heart strings as well as frightens you to your core, this movie is for you and a loved one on Halloween night.
No. 2 The Exorcist
When a famous movie star's twelve-year-old daughter starts acting in a peculiar way, her mother immediately calls a doctor for a house call.
The mother realizes that she may need more than a doctor, so she called a priest to help. If you are looking for a movie that makes your skin crawl, The Exorcist is for you. The highly esteemed soundtrack impacts the viewer's experience significantly by providing the movie with the utmost amount of anxiety.
No. 1 Nightmare on Elm Street
If you are looking for a hair-raising movie that will keep you up at night, A Nightmare on Elm Street is for you.
Throughout the plot, the curse of Freddy Kruger takes over teenagers' dreams, which ends up killing them in reality. The many strange deaths alarm the town and cause people to investigate. As the investigation becomes more in depth, Kruger becomes aggravated and attempts to murder the people investigating him. Spooky and utterly terrifying, Nightmare on Elm Street, will leave give you every haunting, thrill-seeking experience you crave.
Leave a Comment