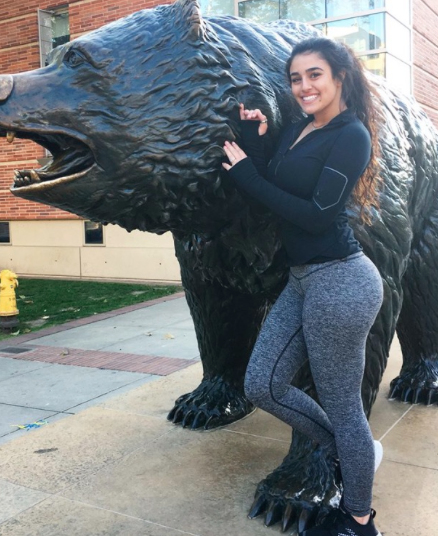 Photo by Mary Gazale
For Cathedral Catholic High School student Annelise Gazale '18, the University of California, Los Angeles ranks as her dream institution of higher learning.
"My application process was very stressful because I knew my entire future would depend on what I wrote," Gazale said. "I made sure that my application covered everything about me since the only other thing they would see were my grades and test scores.
"Therefore, I chose to answer questions that would show who I was and highlight my best qualities."
With competition increasing for admittance into U.S. colleges and universities, gaining acceptance to prestige institutions such as UCLA can seem impossible for many seniors. For the last several years, competition among college admissions has skyrocketed all across America, forcing high school seniors to employ extreme measure to overcome increasingly low acceptance rates.
And CCHS students, like Gazale, are not immune from this predicament.
Thankfully, thanks to Gazale's hard work and support from her family and academic counselors, she will attend UCLA this fall as a pre-med student.
CCHS Dean of Counseling Mrs. Ashley Bascom understands the stressful situation students find themselves facing only all too well.  
"Let's say you apply to 40 different schools, and [you] get accepted to 30," Mrs. Bascom said. "You are being given 30 different spots, but will only end up filling one. This leaves the other 29 spots unoccupied, but unavailable to other students.
"Basically, the competitiveness is so high because the number of applications is growing, as well."
Although thousands of seniors work long hours to perfect their applications, CCHS students enjoy one small advantage.
"Many colleges look at students in the context of their schools, which is why we send out the school profile on our website," college counselor Mrs. Felicia Young said. "That way they are aware of the rigor of CCHS, and they also look at CCHS students in the context of other CCHS students [who] apply."
While CCHS maintains a strong reputation as a college preparatory high school, the common anxiety that accompanies the college application process still exists.
The CCHS counseling department recommends that students apply to no more than 12 colleges, especially considering applications can cost upward of $100. Moreover, the entire college application process can cover many months filled with sending letters of recommendation, test scores, essays, and grades to selected colleges and universities.
"I always knew that UCLA was the most ideal school for me in every aspect, but I knew it would be a reach and very difficult to get into to," Gazale said. "So, I didn't limit myself to where I applied."
Gazale's limitless attitude can be a saving grace in many cases, and the CCHS counseling department even recommends the majority of colleges a student will apply to should be "good bet schools."
"We call them 'good bet schools' instead of safety schools because of the competitiveness," CCHS college counselor Ms. Kristen Micho said. "There's no guarantee a student will get in, but these schools are ones where the student is above the average GPA and test score."
There remains the notorious stress when it comes to college acceptance rates, but approximately 87 percent of CCHS students who graduate will attend four-year universities. A majority of the remaining students do get accepted into four-year universities, but choose to pursue a different path after graduation, according to Ms. Micho.
Popular four-year choices among CCHS seniors are UC and CSU schools, such as UCLA or California Polytechnic State University. Being close to home while receiving a four-year education, California schools offer many opportunities to young students, and Gazale is just one of the many students excited to begin next fall.
While many students will join Gazale at UCLA this September, the school is the most applied to university in the U.S. From the CCHS graduating class of 2017, approximately 98 seniors applied to UCLA. Eighteen were accepted and 10 enrolled. The average GPA of accepted students at UCLA stands at 4.27, while their average ACT is 32, according to Naviance, a comprehensive college and career readiness website.
Gazale's accomplishment proves that the college admissions process may be long, but with the right amount of motivation and support, any school can become a possibility.
"Work your butt off," Gazale said. "Push yourself in the classes you choose to take, and know that the application process is no joke."