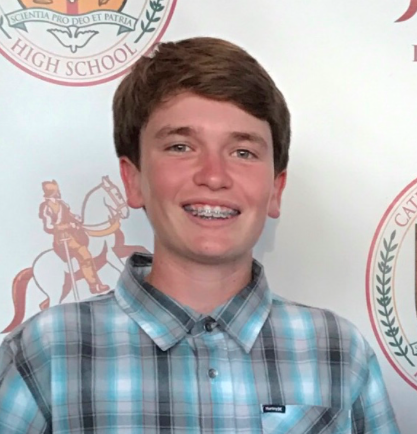 As Assistant Sports Editor for Cathedral Catholic High School's student newspaper,
El Cid
, I look forward to working with my fellow students who have a similar passion as me. I aim to become a better writer and to bring more publicity to
El Cid
this year. Journalism has inspired me to pursue a career in reporting as a sports writer or analyst. My talents match those of a Sports Editor and my passions of baseball and basketball should benefit my writing. Covering sports events, writing player profiles, and analyzing upcoming games consist of my role as Assistant Sports Editor. I aspire to better my writing ability and
El Cid
this year, along with giving the students at CCHS the coverage they deserve.
Shea Linnehan, Assistant Sports Editor
May 21, 2019

Girls lacrosse secures championship

(Story)

May 15, 2019

Dons defeat Cougars

(Story)

May 14, 2019

Remarkable Ray rushes the NFL

(Story)

Apr 10, 2019

Spring sports check in

(Story)

Mar 19, 2019

Dons fall to Foothillers

(Story)

Feb 22, 2019

Dons sail San Francisco

(Story)

Feb 16, 2019

Lady Dons sink Barons

(Story)

Jan 19, 2019

Dons comeback falls short

(Story)

Dec 20, 2018

Winter sports starting strong

(Story)

Dec 14, 2018

Dons play for state title

(Story)

Dec 01, 2018

Dons advance to championship

(Story)

Nov 18, 2018

The battle for Del Mar Heights

(Story)

Nov 11, 2018
Nov 06, 2018

Dons fall just short, but still alive

(Story)

Nov 01, 2018

Lady Dons head to championship

(Story)

Oct 10, 2018

Dons defeat Vikings

(Story)

Oct 06, 2018
Oct 02, 2018

Hungry for more success

(Story)

Sep 18, 2018

Lady Dons defeat Pilots

(Story)

Aug 26, 2018

Thanking teachers tonight

(Story)