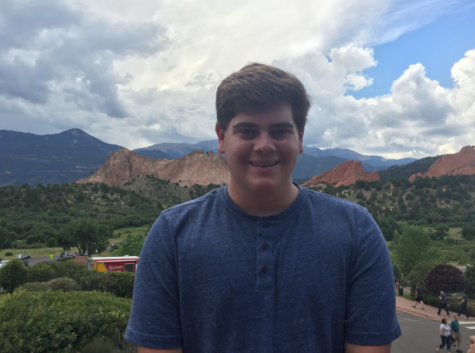 Reporting for El Cid since sophomore year has taught me invaluable information
and lessons that I am eager to apply to my articles this year. I am enthusiastic about
fulfilling the role of news editor for El Cid, and although this is my last year at Cathedral Catholic High School, I feel most
prepared to make this year productive for El Cid. Writing always has been a passion of mine,
and reporting gives me a chance to meet new people, see new places, and absorb new
information. Outside of school, I enjoy swimming, coin collecting, taking pictures, and traveling.
I know this will be a great year for El Cid and CCHS, and I am excited to see what the newsroom does to advance the state of the newspaper. Roll Dons!
Matthew Bailey, News Editor
May 24, 2017

Gone too soon, but not forgotten

(Story)

May 24, 2017

From freeways to country roads

(Story)

Mar 22, 2017

The Week in Pictures: March 6, 2017 – March 11, 2017

(Photo)

Mar 21, 2017

Here today, gone tomorrow and back again

(Story/Photo)

Mar 16, 2017

Religious persecution persists worldwide

(Story/Photo)

Feb 17, 2017

The Week in Pictures February 6, 2017 – February 11, 2017

(Photo)

Feb 10, 2017

The Week in Pictures: January 30, 2017 – February 3, 2017

(Photo)

Nov 17, 2016

The Week in Pictures: November 7, 2016 – November 12, 2016

(Photo)

Nov 16, 2016

Extra monthly Mass offers students sense of community

(Story)

Oct 22, 2016

The cost of living in paradise

(Story/Photo)

Sep 26, 2016

Dons recall personal experiences 15 years after 9/11

(Story)

May 05, 2016

Veteran CNN reporter enlightens CCHS students about professional journalism

(Story)

Apr 29, 2016

Zika concerns Americans and CCHS community

(Story)

Apr 20, 2016

CCHS track and swim teams compete in annual aquathlon

(Story)

Apr 06, 2016

School safety remains top priority

(Story)

Mar 04, 2016

CIF championship victory slips away from varsity boys inline hockey team

(Story)

Feb 22, 2016

Remembering icons of music and film

(Story)

Feb 22, 2016

CCHS conserves four million gallons of water during ongoing California drought

(Story)

Jan 15, 2016

Cathedral hosts leaders of the future

(Story)

Dec 11, 2015

Weather, MDHS drown Dons; Rematch scheduled for next week

(Story)

Nov 18, 2015

CCHS varsity volleyball soars past Del Norte nighthawks in CIF Championships

(Story)

Oct 23, 2015

Blood mobile visits CCHS in Newman's honor

(Story)

Sep 11, 2015

CCHS students pack St. Therese Chapel to remember Zolina and Sept. 11 victims

(Story)

May 04, 2015

Recent 5k a successful step for Kathy's Legacy

(Story)

Apr 16, 2015

Kathy's Legacy Foundation holds 5K, supports victims of domestic violence

(Story)

Feb 02, 2015

Options Program mentors encourage students to help others

(Story)

Jan 07, 2015

Entertainment: an overview of 2014 and a preview of 2015

(Story)

Dec 10, 2014

Honor Roll students give advice on academic success

(Story)

Nov 18, 2014

Students reflect on Halloween during the Thanksgiving season

(Story)

Oct 16, 2014

Equestrian players "determined" to have successful season

(Story)

Oct 06, 2014

Franciscan priest blesses new St. Francis of Assisi garden

(Story/Photo)