Dons advance to championship
Jalen Dye '19 and Dean Janikowski '19 send the Dons to the D1-AA State Championship with late game heroics.
The Cathedral Catholic High School varsity football team defeated Narbonne High School yesterday 24-21 in the California Interscholastic Federation Division 1-AA Regional Bowl Championship after an interception in the last 30 seconds by Jalen Dye '19 secured the victory.
"We knew this was going to be an instant dog fight," CCHS kicker and Washington State University bound Dean Janikowski '19 said. "We knew coming into this game that it was going to be a huge game."
CCHS (12-1) (4-0) and NHS (10-4) (4-0) were familiar with each other after playing in the same exact game in 2016, when CCHS would hold on 35-28 in dramatic fashion behind Shawn Poma's '19 four-touchdown performance.
This year's meeting did not fail to excite, and the Dons came out firing with two touchdowns from Poma and Zion Sorani '19.
CCHS got off to an early 14-0 lead, but this lead decreased when Narbonne scored on a touchdown pass at the beginning of the second quarter.
The Dons answered right back with an 80-yard run from Poma on the first play of its possession.
As both teams went into their halftime talks, the score stood at 21-7.
In the third quarter, neither team could get any points on the board.
NHS wise receiver Joshua Jackson Jr. '20 received a touchdown pass 20 yards down field to decrease the lead to 21-14 with 11 minutes to play in regulation.
NHS held CCHS and tied the game with a one-yard run.
"As the score met 21-21, we knew this was coming down to the line," Janikowski said. "We were staying warm and getting some dry reps going."
The Dons marched down field with a drive of its own, tacking on a 42-yard field goal from Janikowski.
CCHS led 24-21 with less than two minutes to play.
Janikowski was confident when his name was called.
"Going through this kick, I was confident that my long snapper Nathan Weneta '19 and my placeholder Patrick Breen '19 would do their jobs," Janikowski said. "After hitting that kick and watching it go dead center felt great."
Just like 2016, this game came down to the wire. NHS manufactured a 70-yard drive and threatened to take the lead, giving the Dons less than 20 seconds to score.
On third down, inside the 10-yard line, the Gauchos quarterback rolled out and tossed a ball into traffic, where Dye came down with the interception and got his feet down at the one-yard line.
CCHS quarterback D.J. Ralph '19 snuck up a few yards, and the game was over.
"All the work has finally paid off after all those workouts and practice from the start of summer," Janikowski said.
Leave a Comment
About the Contributor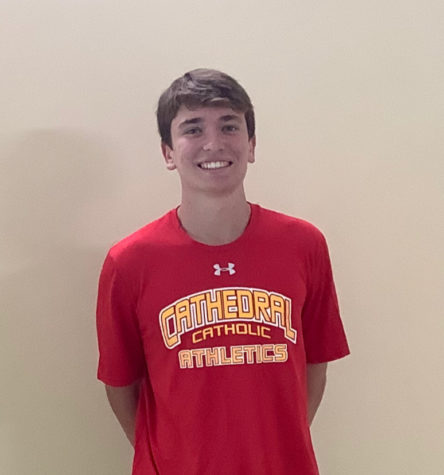 Shea Linnehan, Sports Editor
As the Sports Editor for El Cid, I look forward to furthering the sports section and tradition for Cathedral Catholic High School's student-run publication....