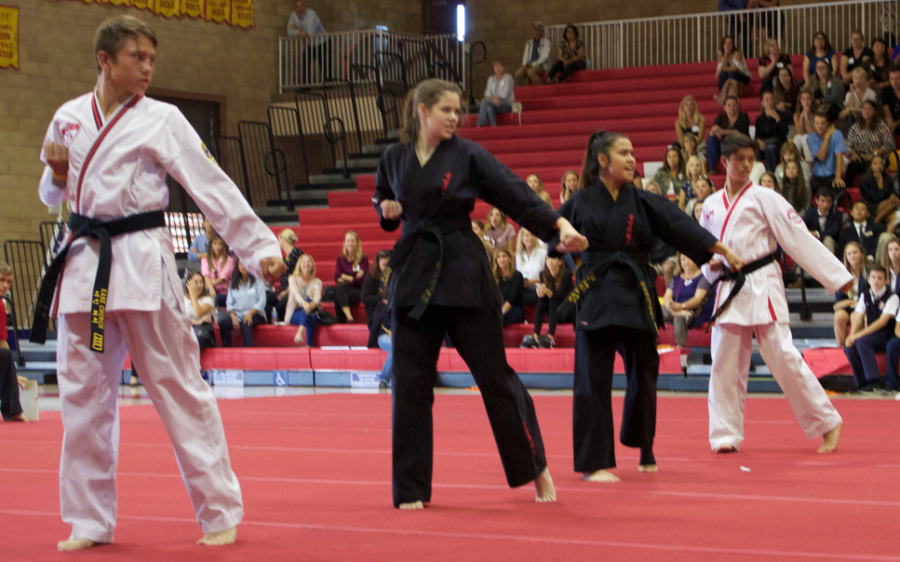 Photo by Riley Hetherington
In an effort to emphasize the importance of self defense to students of Cathedral Catholic High School, 16-time Taekwondo World Champion Olivia Palombo '21 recently introduced the new Taekwondo Club to the CCHS campus.
Taekwondo is the art of self-defense, with the word translating to foot, hand, and art in Korean.
"It really began when one of the cross country runners got scared while running in a canyon, which emphasized the need for self-defense skills," Palombo said.

Palombo trains every day to maintain and to improve her skills, including power, agility, and fluid movement. Palombo won her first world title in 2013, in the nine to 11 age division, proving her dedication to the sport.
Palombo participates in Taekwondo Club with similar athletes who have themselves won various awards and world titles.
Club member Cameron Twomey '21 describes how her interest in Taekwondo sparked from watching her brother's lessons.

"I got really bored of dance and having to sit after to watch my brothers classes, so I decided to start myself," Twomey said.

The journey has been worthwhile for Twomey, who boasts a long list of awards and accomplishments.
"I am proud to say that I am a 10-time Pan American Champ, and she was the youngest person to ever compete on the US National Sparring Team," Twomey said.

Despite the demanding practice hours and work put into Taekwondo, the sport gives athletes a chance to meet peers with similar interests and travel great distances.
"My favorite part about Taekwondo is the friendships and relationships I have formed from training together or traveling to compete," Twomey said. "You get exposed to so many different people from all over the world who have the same passion, and I have met some of my best friends through competition."

As for becoming an official sport at CCHS, Twomey says official recognition as a club is just the first step.

"We are in the beginning stages of developing the club and our goals for the future, but so far our plan is to bring together students who are either currently doing Taekwondo or are interested in just trying the sport out," Twomey said. "We will go from there."