The battle for Del Mar Heights
Dons come from behind to capture its 12th San Diego Section Championship.
Hang on for a minute...we're trying to find some more stories you might like.
With campuses only a few miles away from each other, the Cathedral Catholic High School and Torrey Pines High School varsity football teams were no strangers yesterday when they battled for the California Interscholastic Federation Open Division Championship at Southwestern College.
The Dons eventually defeated TPHS 28-17 after a slow but steady comeback. CCHS (11-1) (4-0) and TPHS (10-1) (5-0) were seeded second and first in in San Diego County, respectfully.
The battle of Del Mar Heights Road was a heavily anticipated game, as both fan bases showed up in masses.

"We fed off of the crowd, this game could've gone different without our great crowd," CCHS defensive end Jake Mitten '19 said.

Both CCHS and TPHS use a heavy run offense. The running attack benefited the Falcons early, as running back Mac Bingham '19 punched in a 39-yard touchdown run on the first drive of the game.

After 15 minutes of play, TPHS led CCHS 7-0 and was threatening to score again.
Bingham added his second rushing touchdown of the game early in the second quarter to give TPHS a 14-0 advantage.

CCHS answered back with a 65-yard touchdown run from Shawn Poma '19 to narrow the TPHS lead to 14-7.

"Getting back into the game in the second quarter was huge," CCHS wide receiver D.J. Justice '21 said. "We knew we needed to make a big play."
TPHS tacked on a field goal to give them a 17-7 lead.

CCHS contained the TPHS offense to a field goal, allowing the CCHS offense enough time to score before the half.

"After our defense gets a stop, we know our offense will score," CCHS linebacker Nikulas Otineru '19 said.

A late second quarter touchdown pass in the corner of the end zone from quarterback D.J. Ralph '20 to Zion Sorani '19 made the score 17-14, giving CCHS more confidence as they went into halftime.

"Scoring late was huge, and we got focused and played ball to close out the half," CCHS cornerback Dee'Shon Swafford '21 said. "We headed into the locker room feeling good knowing we can come back."

Pressure did not seem to get to CCHS in the second half as it beared down and played its game.

"Coach Doyle brought us in the locker room, and he sat us down and just calmed us," Poma said. "This got us ready for a whole second half."

Special teams played a vital role in last night's game in both the first and second half.

"Field position was very key in this game," CCHS kicker, punter, and Washington State University commit Dean Janikowski '19 said. "We had some good punts placed inside the ten yard line, giving our defense an easier job to defend."

The CCHS received the kick to start the second half. After trading possessions, CCHS captured its first lead of the game with a two yard touchdown run from Poma.

CCHS, leading 21-17, would not look back.

The CCHS defense settled down and cooled off the Falcons running offense. TPHS came within inches on a fourth-and-one-yard play. CCHS linebacker Ethan Simley '19 made the tackle and gave the Dons the ball in Falcons territory.

Ralph added his second throwing touchdown on the night with a third-down throw midway through the fourth quarter to Poma to give him his third touchdown on the night and CCHS a 28-17 lead.

The CCHS defensive front killed the clock and the TPHS momentum with key sacks and consistent pressure.

"We watched a lot of film on [Mac Bingham '19], and we knew what was coming and swarmed to the back," Otineru said.

CCHS held a shutout in the second half of regulation. Turnover on downs, an interception by Jalen Dye '19, and a forced fumble by Trevor Reh '19 helped the Dons roll to victory.

"The forced turnovers gave everyone energy and life," Swafford said. "We knew what we had to do, and we executed and came out on top."

Bingham led TPHS with both of its touchdowns and 131 yards.

Poma paced the CCHS with three total touchdowns and 216 total yards, while Ralph added two passing touchdowns and 136 passing yards.

"It was all my offensive line and blockers down field," Poma said. "They just open up holes for me and make my job easy. We had to dig deep and play bully ball and that's what we did to pull off this win."

Both CCHS and TPHS finished with over 300 yards of offense.

Last year, CCHS finished with a 5-7 record, highlighted with key injuries on both sides of the ball. This year, CCHS rattled off 11 straight wins and had a shared mindset throughout the team.

"I believe every year our goal is to make it to the CIF Open Division Championship," Janikowski said.

Despite being down early, CCHS battled back and earned its 12th San Diego Section Championship and second in the last three years.

"We played together and never gave up," Otineru said.

After the battle of Del Mar Heights, the road does not end just yet for CCHS, as the team advances to the Southern California Regional playoffs.

"After the win it was a great feeling, finally all of this work has been paying off for us," Poma said. "We are looking for more than just a CIF San Diego Section ring.

"To the state championship, here we come."


About the Writer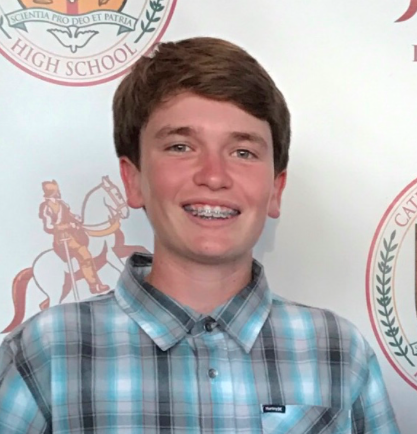 Shea Linnehan, Assistant Sports Editor
As Assistant Sports Editor for Cathedral Catholic High School's student newspaper, El Cid, I look forward to working with my fellow students who have...