Dons fall just short, but still alive
Girls volleyball advances to regionals tomorrow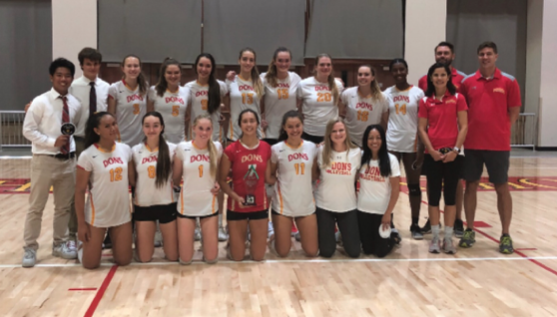 Hang on for a minute...we're trying to find some more stories you might like.
The Cathedral Catholic High School varsity volleyball team suffered a 3-1 loss in the San Diego Section California Interscholastic Federation Open Division Championship game to Torrey Pines High School last Saturday.

CCHS (28-7) (8-0) and TPHS (32-3) (10-0) were neck and neck during four sets of play.

In the first set, TPHS pulled away late as it won the set 25-18. The seven-point victory in set one was the largest margin of the match.

"Winning the first set was huge," TPHS outside hitter Delaynie Maple '20 said. "It made us relax and play loose for the rest of the night."

The second set ended with TPHS notching a 29-27 victory. Extended play was needed to determine the set's victor. Despite 11 kills from CCHS outside hitter Madison Endsley '20, the Falcons rallied and won set two led by its steady attack.

"I think coming back and stealing set two was a huge turning point and confidence booster for us," TPHS setter Carly Diehl '20 said. "It was a long battle, and it gave us a good lead to finish the match."

The Dons regrouped and took set three 20-25, decreasing the deficit to 2-1.

TPHS wrapped matters up in the fourth set 25-22, winning its fifth title in six years after the victory.
"We played hard and never gave up on each other," Maple said. "I think this is why we were able to bring home the win."

A steady offensive attack and sharp play aided the Falcons in its victory.

"We passed very well and found our mustaches along the net," Diehl said. "We played as a team and really came together."

Although the Dons fell short, this match is not the end this year for CCHS varsity volleyball.

"I'm super proud of how far we've come this year," CCHS outside hitter and Georgetown-bound Peyton Wilhite '19 said. "We still have state playoffs coming up, which is really exciting."

A rematch could be in the making in a few weeks if both teams advance to state playoffs.

"I definitely want to see them again, and hopefully we will match up again," Wilhite said.
The TPHS team's yearning for the finals started before the season even started.

"This was a goal for the team from the start, and we expected to get to this point," Diehl said. "We worked hard in order to make it to the finals."

The Dons hope to play cleaner volleyball if the two teams meet again.

"It was a close match, even not playing our best," Wilhite said. "I think if we served more consistently and aggressively and made less errors, the outcome would have been a lot different."

CCHS was led by Endsley with 27 kills, Karenna Wurl '19 with 23 digs, and Kylie Adams '20 with 23 assists.

Maple paced TPHS with 16 kills, while Macall Peed '19 added 11 digs and Diehl contributed 29 assists.

CCHS finished with more total blocks, receptions, and a higher hitting percentage with 14, 84, and .284 percent respectively. On the other hand, TPHS boasted more digs, serving aces, assists, and kills with 46, 5, 56, and 59 respectively.

The respect between the teams was evident after the match.

"TPHS was a good passing team, and they proved that throughout the game," Endsley said.

The Dons finish its season with heads held high. The team's work ethic and leadership will prove valuable as it continues the season in southern California regionals.
The Dons' success and accolades this year will not be overlooked, according to Wilhite.

"Our team is awesome, and I think the chemistry and energy we have is really special," Wilhite said. "That's the reason why we have been successful this season."

About the Writer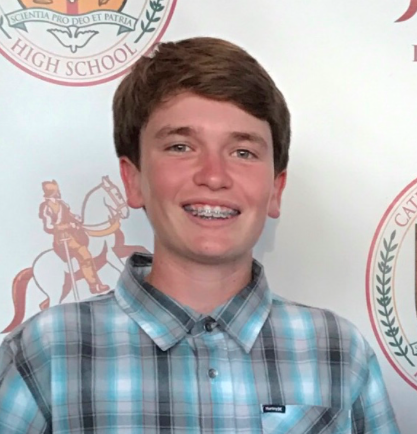 Shea Linnehan, Assistant Sports Editor
As Assistant Sports Editor for Cathedral Catholic High School's student newspaper, El Cid, I look forward to working with my fellow students who have...