Young track talent shines this season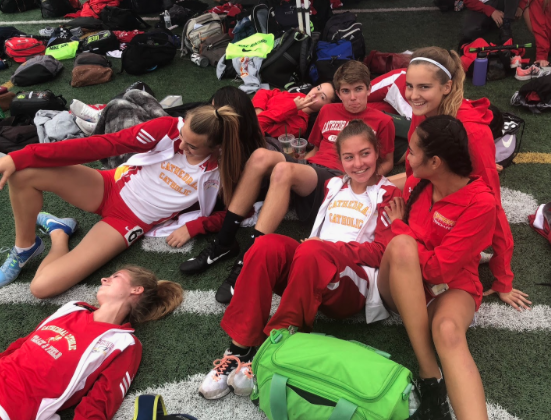 The Cathedral Catholic High School track team recently competed in CIF championships at Mt. Carmel High School thanks to a couple of stellar first time runners on the team, with boys finishing first in division II and girls finishing third in division II.
"The experience of being on the track team was great," CCHS first time varsity runner Elisha LLoyd 21' said. "I got the chance to race against the top sprinters in the county and push myself to limits I've never pushed myself to. It also pushed me harder to be faster knowing I am going against upper class men." 

Lloyd made the varsity track team this year and performed exceptionally well.
"I have been running track the last two years in middle school," Lloyd said. "I have also competed and participated in a lot of meets."

In the 8th grade, Lloyd was ranked number one in his school district for the 100m dash. He has continued to surprise the track team coaches and his team by participating in the 100m, 200m, and the 4×100 events.

Track is a sport that requires a lot of time and dedication. One can never "stop practicing or pushing yourself," according to Lloyd.

This motto certainly drives Lloyd as evidenced by his success this season.
"This season I have been blessed with many accomplishments," Lloyd said. "I broke the school record in the 100m, which was a 10.97 and I ran a 10.88. I'm currently crowned the fastest 9th grader in California, and I am champion for the 100m in my league. I've learned a lot more techniques in running thanks to my coaches, and I am going to continue to grow stronger and faster throughout my years in high school."

Despite Lloyd's amazing performance, he is not the only freshmen standout on the team.
Sophia Aragon '21 also caught the eye of her team and coaches as she made it onto the varsity CCHS track team.

"I've had some of the best moments and experiences running track as a freshman," Aragon said. "I've met so many people and made friendships with them. It's been a lot of hard work to qualify for certain track meets and break personal records, but overall I have loved the season."
Just like he majority of runners on the varsity track team, Aragon has run competitively for a couple of years, while balancing other sports, as well.
"When I was younger, I ran club track for three years," Aragon said. "I quit to play competitive soccer. So, this [season] has been my first time running in almost five years."

Aragon focuses mainly on the 400m, but she also runs 4x100m relay, the 4x400m relay, and the 200m. In addition, she also competes in the 100m and the 800m in past league meets.

This year, Aragon broke multiple records, earning the attention similar to that of a standout track star.
"This season I broke the Cathedral Catholic freshman record in the 400m, with a time of 57.14," Argon said. "I am currently the third fastest 400m runner in San Diego, and I am a western league champion in the 400m and the 4×400 relay. When I look back to the beginning of this season, I can proudly say I have grown as an athlete and gotten mentally and physically stronger. I have learned to balance school with multiple sports.
"And I am beyond proud of our team and coaching as they have helped me grow and push myself to be better and faster."

This success, however, did not come at an small cost. The track team practices every day, and looks different for each particular group.

Mr. Geiger, CCHS track head coach, is satisfied and proud of what his runners achieved this season, knowing the young freshmen will step up to lead the team as current seniors leave for college.

"We always train with the goal of helping each athlete reach their potential," Mr. Geiger said. "Our methodology has been fairly consistent, hence our success this season." 

About the Contributor
Eugenia Dominguez-Chaires, Public Relations/ Advertising Manager
Returning to El Cid for the second year, bringing new media aspects and allowing El Cid's name to shine both within the community and outside the community...