From tee-ball diamond to wrestling Matt
CCHS wrestler gets big surprise at state tournament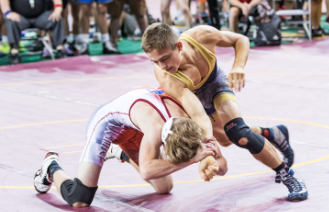 Hang on for a minute...we're trying to find some more stories you might like.
Cathedral Catholic High School student Matt Vinci '18 never expected to see his whole family at the recent California State Wrestling Championships, especially considering his dad works across the country in Washington D.C.
Yet, after a couple of hours of training in Bakersfield, California, Vinci received a surprise he will never forget.
"I was just floored," Vinci said. "I didn't believe it for the first few hours."
The story begins after Vinci was picked up in a van filled only with whom he thought was his mom, sister, and coaches. As they drove away, one of his coaches asked Vinci to grab a blanket from the trunk. Unaware of the surprise waiting for him, Vinci climbed to the back of the van, and he was greeted by his dad hiding under a sleeping bag.
"Are we there, yet?" Vinci's dad said.
From that moment forward, Vinci knew there could be nothing more exciting than knowing his dad was there to witness him compete in difficult wrestling matches to come at the state meet.
Yet, his road to wrestling stardom did not begin in Bakersfield.
Vinci's journey to becoming a national contender in wrestling began when he was eight-years-old in Key West, Florida.
"When I was young, I was playing tee-ball, and I wasn't very good," Vinci said. "A mom, sitting next my mom, said, 'Hey, my son goes to wrestling practices on Wednesday nights. Your son might want to come try it out,' hinting that I needed to find another sport other than tee-ball.
"My mom asked if I wanted to go to wrestling, and I said, 'Yeah!' I went to the first day of practice and absolutely fell in love with it."
For those wrestling novices, wrestling consists of three, two-minute periods where each wrestler tries to score as many points as possible. A pin, or fall, in which the back of a wrestler's shoulders are on the mat for at least two seconds, results in an automatic win.
Otherwise, the points result in the factor which adds up to allow a wrestler to win. The moves that score points are a takedown (two points), escape (one point), reversal (one point), near fall (two points for every two seconds the opponent is held down on the mat, and three points for every three seconds the opponent is held down on the mat).
Points are given to a wrestler's opponent for illegal holds (one point), unsportsmanlike conduct (one point), unnecessary roughness (one point) and stalling (one point), according to West Virginia wrestling.
After the military transferred Vinci's family to California, he pursued wrestling on the west coast as a member of the CCHS wrestling team. Vinci became a Don his junior year, and he has made a significant impact on the team as a competitor in the 120-pound weight division.
In fact, his success in wrestling has allowed him to receive admission to one of the best universities in the country.
"I knew I wanted to go to a great school, and Northwestern is pretty academically challenging," Vinci said. "I fell in love with the campus. It's an absolutely beautiful, open campus."
Vinci could not be more excited to pursue his wrestling career at Northwestern University in Evanston, Illinois. The university is ranked 17th in the nation in Division I wrestling, and it is amongst the top 15 for best schools in the country. With a GPA of 4.667, Vinci is definitely Northwestern University material.
The school became an even better fit after Vinci met the wrestling team.
"When I met them, there were a lot of guys like me who had similar goals and who were just really willing to work hard to get to their goals," Vinci said.
Working hard, which is one of the key qualities that has paved the way for Vinci's success, is an attribute that both the wrestling team at Northwestern University and Vinci share.
Along with hard work, resilience is another quality that has allowed him to become a nationally-ranked wrestler.
"You are not going to win every match, and you just need to put it into perspective and re-evaluate what you did wrong and bounce back," Vinci said.  
Vinci definitely bounced back into practice after losing a gritty match to Nathan Kiddoo of Ramona High School in overtime at the Holtville High School Wrestling Tournament. To motivate himself, Vinci taped a picture of Kiddoo in the wrestling room, and he looked at the picture everyday, knowing he was training to beat Kiddoo.
Revenge day came at Masters, the tournament that determines who will go to the state championships in Bakersfield. Vinci was locked in, and he defeated Kiddoo 6-5 in the semifinal match, securing himself a ticket to the state championship in Bakersfield on March 2-3.
"The weird thing about wrestling is that even though I was focused on beating him, I absolutely respect him as a person and as a friend," Vinci said. "He is such a good kid. I respect him everywhere else, but once you step onto the ring it's go time."
With his dad and family in Bakersfield to support him, Vinci definitely went to work March 2.
In the first round of the state tournament, Vinci defeated Riley Hilt of De La Salle High School, advancing to compete against Nic Aguilar of Gilroy High School. Unfortunately, Vinci lost this match, his final match competing as a Don.
It was an amazing season for Vinci and the rest of the CCHS wrestling team. Having the opportunity to compete at state with his dad watching him was the perfect ending to his high school wrestling career and an equally amazing experience for his dad, Vinci said.
"Now that the season is over and my dad has gone back to work in Washington D.C., I look forward to finishing the rest of my senior year surfing, hiking, and cherishing the next months in San Diego before I attend college," Vinci said.