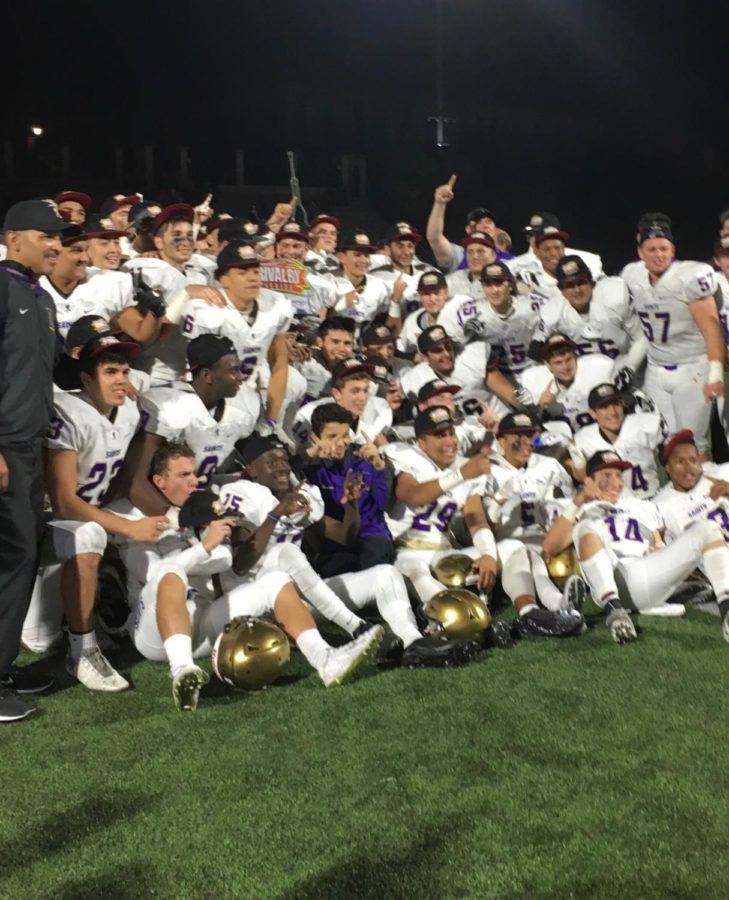 Photo by Cole Hume
Saint Augustine High School had everything clicking yesterday in its 45-6 victory over Cathedral Catholic High School in the regular season finale for both squads at Manchester Stadium.
The two teams battled, but the explosive running attack and turnover-creating defense of SAHS proved too much to handle for CCHS's injury-plagued, young squad.
"This whole year there has been nothing wrong with our effort," CCHS football Head Coach Mr. Sean Doyle said. "A reasonable amount of mental mistakes are being made, but physically, there's not too much wrong in how we battle out there."
SAHS (7-3, 4-0) applied the pressure early with a rushing touchdown by DeAndre Daniels '18 on the opening drive, which was complemented by field goal later in the first quarter. At the end of the opening stanza, SAHS looked confident on both sides of the ball.
"It was tough to gain those first few yards [on offense], but after the first touchdown, we gained some confidence in ourselves," SAHS defensive end Joshua Putris '19 said. "That first touchdown gave us that feeling we could keep pushing."
SAHS seemed primed to take over the first half, but a passing touchdown from Thomas Kane-Berman '18 to Colin Myers '18 halted SAHS's momentum.
"The drive was long and a punch to their face," Myers said. "Going into halftime, we had all the motivation we needed. The first half was a whole team effort, and we did what we needed to do."
At the half, SAHS lead 17-6, and both teams felt poised to come out tenaciously to start the second half.
SAHS hoped the momentum established in the first half could be continued in its final half of 2017 regular-season football.
"We wanted to set up play action by effectively running the ball," SAHS football Head Coach Mr. Richard Sanchez said. "Defensively, we loaded the box and defended the run, forcing [CCHS] into third and long."
CCHS (4-6, 1-3) trailed by two scores at the half, but the team felt the game was definitely not out of reach.
"I thought the overall feel at halftime throughout the team was real good," Mr. Doyle said.
We were fired up, and I thought we could get some quick points on the board and maybe go for two to make it 17-14."
The one constant through both halves was the impressive running of SAHS running back Daniels, who ran wild against CCHS, rushing for 254 yards and three touchdowns. He had a memorable, historic Holy Bowl performance.
"[We are] always concerned about his ball security," Mr. Sanchez said. "But he took every opportunity that the defense presented to him. He ran hard and finished every run play."
By the fourth quarter, the game was all but over due to an insurmountable 38-6 SAHS lead. Touchdowns from Patrick Bazzi '20 and Seth Hayes '19 complemented the exceptional touchdowns from Daniels, and a defensive touchdown from Tyson McWilliams '20 served as the final dagger.
Ultimately, this year's Holy Bowl epitomized both squads' season.
In the game and overall season, CCHS featured a young team battling injuries and unable to overcome youthful mental mistakes, yet leaving it all on the field.
"Even though it wasn't the outcome that we wanted, I didn't witness one player quit throughout the whole game," Myers said. "Kids laid themselves on the line, and that's all our team can ask for.
"We are ready to move and even more ready to compete."
Similarly, the SAHS team's game was a microcosm of its season as it would start somewhat slow, but would prove its tenacity and talent as both the season and games would progress.
"It is always a tremendous feeling when you beat Cathedral, and last night was no different," Mr. Sanchez said. "To win the Western League undefeated is a great honor and privilege."
CCHS will take on Mount Carmel High School (3-7, 2-4) Nov. 10 in the Division 1 playoffs at CCHS, while
SAHS will play the surging San Marcos High School Knights (8-2, 4-2) Nov. 17 in the Open Division playoffs at SMHS.