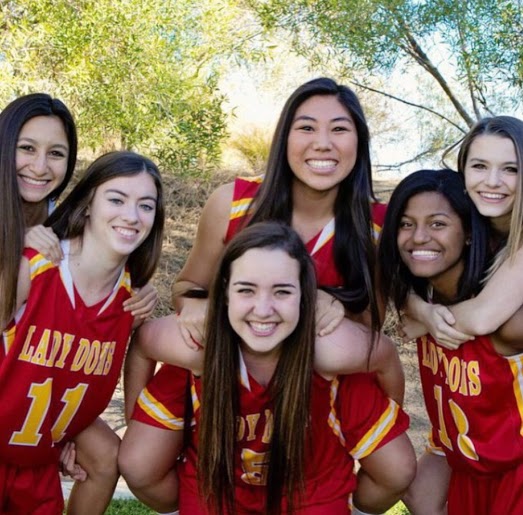 Photo by Mrs. Duenas
Cathedral Catholic High School girls basketball intends on picking up where it left off last spring: undefeated. Looking forward to new faces, players are more than willing to defend their league title and build on their previous success.
"We are hungry to defend our league title being undefeated last season in both JV and Varsity leagues, and [we plan to] make a run at the CIF playoff title," girls basketball coach, Ms. Jackie Turpin, said.

Ms. Turpin wants the potential of each player to be met, and her standards for the players always remain high. She expects the girls to put in all of their hard work on and off the court, putting their best foot forward in every practice and game.

"Coach Turpin recognizes our strengths and weaknesses," player Melina Babauta '17 said. "She uses those to our advantage by having us work together to improve our sports conduct."

In a sport like basketball, the key is to play a team ball. Not only do the teammates encourage each other from the sidelines, but also do so in the heat of the game. Instilling a positive atmosphere is a crucial element to the team's progress.
In turn, it is important for the team to remain consistent with their workouts and to push themselves and their teammates to the next level.
"The workouts and practices bring us together by working on our strength and performance," player Haley Lloyd '17 said. "We learn how to work with each other, and make everyone better, helping us get closer to victory."

The girls are ready to take on every team along the road to CIF.