Dons' season ends with loss to Alemany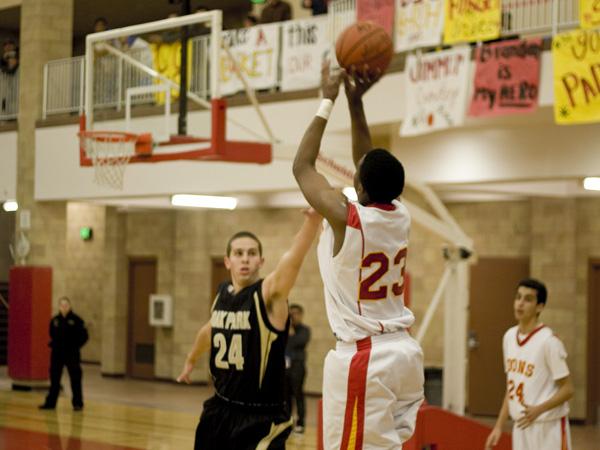 Hang on for a minute...we're trying to find some more stories you might like.
 The best basketball season Cathedral Catholic/University of San Diego High School has seen in over a decade came to a halt on Tuesday night when the Dons' basketball team lost in the third round of the California state playoffs. The Dons ended their phenomenal season ranked 30th in the state and with an overall record of 30 wins with just 4 losses. The Dons are set up to be successful next year and beyond as well, as they are losing just one player from this year to graduation.
 Last Tuesday night the Dons took the trip up to Mission Hills to meet with the Alemany Warriors. The Warriors entered the state tournament as the number one seed and a record of 30-4, and they proved that they deserved such a high seed against the Dons. The Dons were able to keep the game fairly close early on; they went into halftime losing 36-35.
The Warriors pulled away in the third quarter, however, scoring 27 points to give them a comfortable lead that they never gave up as they put up another 21 points in the final quarter. The Warriors came away with the victory that was never in doubt past halftime with a score of 84-64. Junior Xavier Williams was one of the only Dons to have a good game against Alemany, scoring a total of 23 points; he also added a total of 10 rebounds.
Even without making it past Alemany in the California state tournament, the season is still the Dons' most successful in over a decade. The Dons' CIF title victory against Mission Bay was the first for the team in 12 years. Their 30-4 record is the school's best since they went 19-10 in 2008. The Dons' over 2000 points scored is a school record and is the best since 2009.
It would seem that this season is not going to be a one-year wonder, as the Dons are only losing one player for next year. The only senior on the team was captain Brandon Reh, who led the team in field goal percentage. The rest of this year's team consisted of mainly juniors, including leading scorers Xavier Williams and Niksha Federico, and co-captain Nick Prunty. With this strong base of underclassmen, the Dons look like they are built to make another won for a championship next year.