Saint Kolbe- Patron of Addiction
As we recognize the dangers of drugs and alcohol, we can turn to St. Kolbe as an example of the deathly nature of all substances and guidance for sobriety amongst all aspects of life.
During his early life, he saw a vision of Mary which inspired him to choose a path of sanctity and become a martyr. His journey began when him and his older brother escaped to a seminary in Austria-Hungary where he was given his religious name of Maximilian. Throughout the years St. Kolbe became a priest and experienced multiple illnesses, travels, and wars. It was the Second World War where his life truly changed.
He was a Franciscan Friar, part of the Russian Empire and a part of a monastery that plunlished anti-Nazi publication. This led to his first arrest and send off to Auschwitz, where he continued to work as a priest in horrible circumstances, offering solace to inmates.
During his arrest he claimed, "No one in the world can change Truth. What we can do and should do is to seek truth and to serve it when we have found it. The real conflict is the inner conflict." The only way to change things is by first changing ourselves, accepting the truth, battling our own selves. Red Ribbon week is an important time to reflect on our actions as we see the harm in drugs and alcohol and fight for sobriety.
Nazi guards selected 10 people to be starved to death, he volunteered to take the place in an inmate bc he has a wife and kids to return to. Because he was voluntarily held captive to starve to death before drugs killed him we see that we can voluntarily choose a drug free path. We must pray for Grace to be free from the captivity drugs hold us under. St. Kolbe became the patron of drugs and addiction because he was put to death by a lethal drug (carbolic acid) and canonized as a martyr. The message shared in his story is that no drug we voluntarily take will be safe. St. Kolbe protects those struggling with drug abuse and addiction and we have the power to help everyone around us.
Leave a Comment
About the Contributor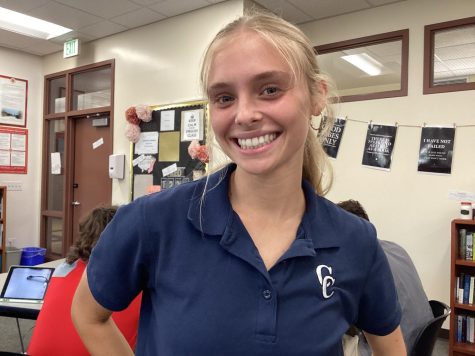 Nicole Moore, Photo Editor & Spiritual Life Editor
Nicole Moore is a first year staffer for El Cid Online. She was inspired by her success in previous English classes to pursue journalism for her senior...