Dr. ValLimar Jensen rocks the gym (video)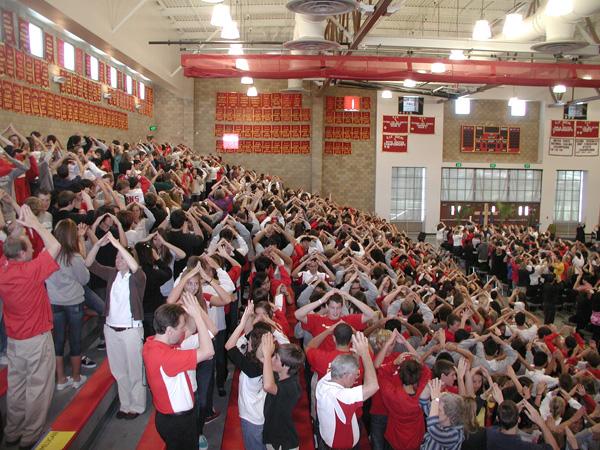 Ms. Marissa Pansoy
Alexis Jammo, Staff Writer
May 3, 2011
As a college professor, youth minister, and accomplished vocalist, Dr. ValLimar Jensen has dedicated her life to her music and her faith, and teenagers.
Eleven years earlier, Dr. Jensen gave a presentation on the Uni campus with a pertinent message about tolerance and diversity during the then annual Multi-Cultural Week.
However, on April 15th, Dr. Jensen came to the CCHS campus with a far more light-hearted message about worshipping God through singing and the power of soul and Gospel music. Normally during Lent, Stations of the Cross is led by the junior campus ministers who try to make Jesus' agonizing journey relevant to teens.
Dr. Jensen's visit was a welcome surprise as it was not announced she would be giving a presentation until that Friday's episode of CCTV aired, far different than a tired-and-true production of Stations of the Cross adapted for teenagers.
In previous years, students walked into a dimmed Claver Center filled with candles to light a somber procession around the floor of gym. The audience was expected to participate through both spoken and sung responses, but the Stations of the Cross is far more serious and participation is limited compared to Dr. Jensen's lively presentation.
Not only was she full of soul and charisma, Dr. Jensen was also talented in her ability to include the entire school in the experience. Her presentation managed to elicit an enthusiastic response from a wide-eyed audience, and she persuaded every CCHS student to sing and dance. She made her goal of getting everyone in the community excited and on their feet clear from the get-go and certainly achieved them.
Junior Karlyn Murphy said, "She was incredible! It was the first time a speaker came to Cathedral where I could look around and see everyone engaged in the performance the whole time."
During the one hour and forty minute presentation, Dr. Jensen won over the audience with her vivacious personality, soulful voice, and bright smile. She led the CCHS community in a series of religious songs with hand motions in order to build unity among the student body.
Aside from involving everyone who was willing to participate, she also taught a valuable lesson – preaching can be fun. Senior Hannah Curzon even said, "I had only seen singing and clapping like that in movies. It was so fun to actually be a part of that. I know that, from now on, I will make every Mass that fun! [Dr. Jensen] convinced me that I should take part in what God wants. Singing is just another form of prayer."
Senior Lexie Estrada agreed, saying, "From now on, everyday, I will be saying 'yes Lord, yes Lord, yes yes Lord!' It is so catchy. I cannot get it out of my head! I love the song!  And I will also never forget the blessings song. I will be sure to bless under my feet each day!"
Though each speaker to come to Cathedral usually leaves with both fans and critics, Dr. Jensen seemed to only have positive reviews. Student Drew Earle said, "The last speaker really put a lot of soul into her sermon. She seemed to bring everyone together with her unique culture and Christian teaching methodologies."
Never before has this reporter seen the student body so involved in something an authority figure instructed us to do, and it appeared that our school achieved total unity. No one thought they were "too cool" to join in; but rather, all created memories and shared in the silliness of the experience. Even though the presentation was a bit cheesy at times, it was a well-need break from the stress leading up to Spring Break.
With such remarkable critiques and two opportunities to be a guest speaker at our high school community, it is certain that Dr. Jensen has become a part of an essential part of the Uni-CCHS tradition.