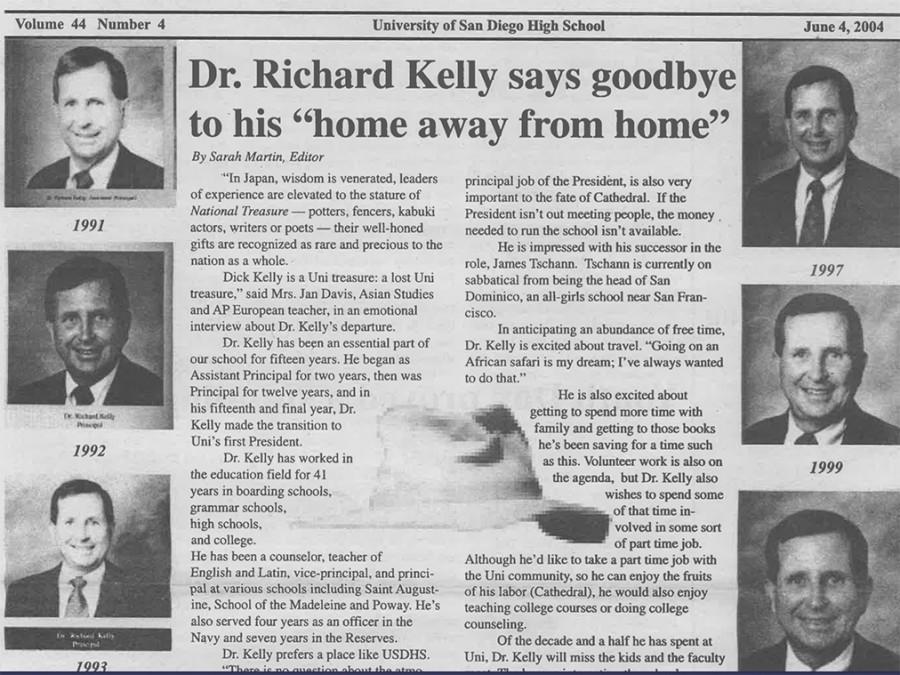 Principal Dr. Richard Kelly and wrestling Coach Roberto Clemente leave Uni
Reviews of Youth Day and new block system
A game of senior year
Electricity Problems
Raccoons roaming at night
Places to Eat on Campus
Student finds lost dog
Drama production
Academic League
After working at University of San Diego High School for fifteen years – as vice principal for two years, principal for twelve years, and the first president ever at Uni – President Dr. Richard Kelly says his farewells to the school.   As the head wrestling coach Roberto Clemente prepares to leave, he also says his goodbyes to this school. However to compensate for these losses, Uni gains some new members and creatures on campus. As the newest security guard on campus, Anthony Smith joins and protects Uni's community. A family of raccoons also make themselves at home, as they ravage around the campus. Uni makes some changes on campus by transitioning from all-day schedules to the new block. The paper also reviews some of the traditional and memorable events that occurred during senior year, using an illustrative game board of senior year that explores the different and special events that seniors enjoy for their last year as they prepare for college. More changes and recaps of the year can be found in the article.
Here's the Link: El Cid  6/4/04