Get Excited for the Winter Sports Pep Rally!
Get ready to cheer and support our Dons sports community this Friday! Join us as we show our love for our winter sports teams and as they kick off their season.
On February 3, Cathedral's ASB will be putting on a pep rally in hopes to boost the school's spirits for the winter season. The Dons ASB is well known for having high energy and spirit and pep that flows through the school's students and staff, making every event exciting and fun. They have been putting on pep rallies throughout the year, usually being hosted in the gym but due to COVID, have been held outside on the school field. Luckily, we are excited to be back in the gym this week and out of the hot sun or recent pouring rain.
ASB has announced the rally to the school, putting up fun posters and mentioning it in the morning announcements. This week is filled with many dress up days and fun events. This Tuesday, students are allowed to wear spirit dress and a college sweater in honor of Catholic schools week .On Thursday, Cathedral is holding an all-school mass that will feature members of the BSU (Black Student Union) talking about Black History Month. They will be singing songs to share with the community. Lastly, on Friday, students are allowed to wear jeans and a white T-shirt with their grade-assigned colors. Freshman are Orange, sophomores green, juniors pink, and seniors yellow. Wear your most festive accessories to show off your school pride at the rally.
In an interview with Sienna Kotsay '23, she explained her love for ASB and how she and the rest of the organization are super excited to put on the rally this Friday. "The whole Cathedral ASB community has been working very hard this past month to make this pep rally something to look forward to. We have been brainstorming new ways to make this pep rally different and special for the students to enjoy." Sienna is a senior at Cathedral and shares her bittersweet emotions about one of her last pep rally at the school, " I have been a part of ASB for most of my time at Cathedral and have loved putting on fun events at the school and planning pep rallies and dances and everything. It has been such a great time honestly. I'm a little sad that I will have to retire this position when I leave the school but I'll be taking all of these memories with me as I continue to college."
Cathedral offers over 40 sports year round with over 80 teams and amazing and supportive coaches. This winter season, we will be acknowledging boys basketball, boys rugby, boys soccer, boys in-line hockey, boys wrestling, girls basketball, girls rugby, girls soccer, girls water polo, and Co-Ed team tennis.
The students work hard all season to show off their best skills on the field, floor, and court. The athletes train vigorously at practice, showing off their dedication, motivation, and perseverance on and off school campus. All the athletes are excited to be acknowledged by the school and shown the love and excitement they deserve.
In an interview with a varsity Cathedral Catholic athlete, Amon Andrews '25, he states how he is ".. super pumped to show up with the team Friday. I'm really excited that the team can get shown some love. It (the pep rally) really does get our hopes up and get us in the right headspace to be able to kill it throughout the season." Amon is part of the varsity boys basketball team. They have been killing it all season playing over twenty five teams from all over California and traveling around the county to Sacramento and even overseas to Hawaii.The Cathedral community continues to support them by showing up to their games and bringing their best spirit to cheer them on.
Cathedral Catholic is a special school for our sports teams because of the amazing coaches we have that push our athletes every day at practice and games. They show endless love to the community and have helped our athletes to go onto national levels. The coaches have trained the athletes so intensely and have taught them many life lesions that they will take along throughout their life. Cathedral has received many CIF acknowledgments because of the amazing skill level of the athletes and have hopes to receive many, many more.
We cannot forgot to show our love and thanks for our beautiful trainers Ms. Ashley and Ms. Austin. Day and night, they are here taking care of athletes and helping them improve their skills. They show up to every single game and are always the people to bring smiles to the faces of every person they meet. This pep rally, we will be acknowledging all their work so make sure to cheer extra loud just for them.
Make sure to be there this Friday to show your pride for the school and our amazing athletes.
Leave a Comment
About the Contributor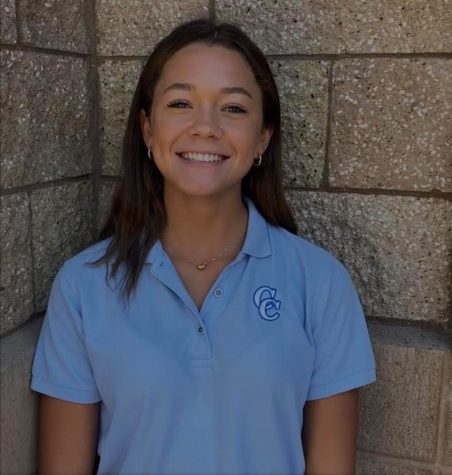 Amanda Miller, Staffer
Amanda Miller is a sophomore at CCHS. She was born in Hollywood, California than later moved to San Diego. She is half Venezuelan and hopes to visit her...