Time to Be Thankful
This week Cathedral's community celebrated teacher appreciation week by leaving messages on teacher's doors. Students wrote cards and gathered together as a school community to celebrate teachers at mass. 
However, with all of the work that our teachers put in our school we should extend our appreciation for at least the entire month. Many students are not aware of the pressure that our teachers are under and, as a community, we should be more appreciative of our incredible teachers. 
This year, our ASB proved to be the most dedicated to supporting our teachers. They hung posters, put on a car wash for our teachers and provided lunch. One could say that ASB "covered the bases" this year. Sarah Rhodes, ASB advisor, reports the class's influence on teacher appreciation week: "We took the 'Vintage baseball' theme to set up something special for them each day. We have so many hands in ASB to be able to make the bases for each teacher door, wash 20+ cars yesterday, each ASB member brought food to feed the teachers a 'Grand Slam' breakfast and our Parent Association organized an amazing lunch for everyone as well." 
Teacher appreciation week originated in 1944 and was started by Elenor Roosevelt. She initiated a day set aside to recognize educators which eventually turned into teacher appreciation week in 1985 when Congress decided that schools should celebrate teachers in the first week of May. 
Recently, the hashtag ThankATeacher has been trending with the national PTA suggesting that the best way to honor teachers is by making thoughtful cards, baked goods and decorating teachers rooms. Even if you, unfortunately, missed the deadline for "teacher appreciation week" I am confident that our Cathedral Catholic teachers would be very grateful for appreciation any time of the year.
We all know they deserve it!
Leave a Comment
About the Contributor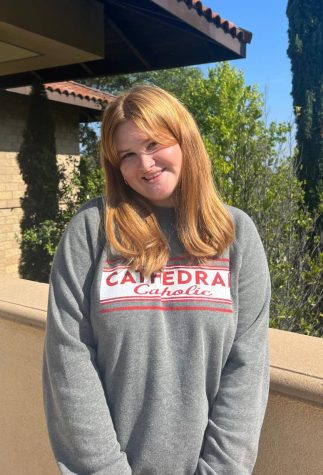 Julianne Cox, Staffer
What makes Julianne Cox unique? Her passion for journalism. This is her second year as a journalist, even though it has been in her DNA her whole life!...