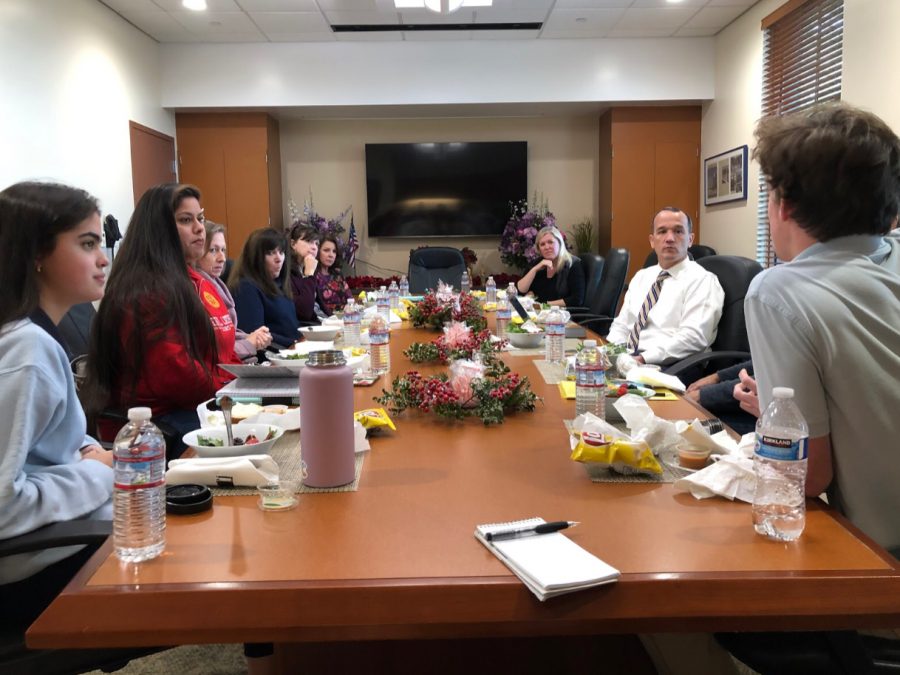 Photo by Dillon Tarle
After controversy involving last year's skirt ban and a lack of proper communication between the administration and student body, CCHS Principal Dr. Kevin Calkins recently created a task force to facilitate improved communication.
"One thing we acknowledged [regarding the skirt ban] was that if we could redo [the skirt ban], we would've communicated it differently," Principal Dr. Calkins said. "We decided to get folks together and talk about how we could have done [the communication] better and how we could avoid this type of situation in the future so that we don't have any other challenges."
Improving communication between the administration, teachers, students, and parents is one of the main goals of the task force, along with discussing prominent issues and policies on campus.
Occurring monthly, Dr. Calkins leads each meeting, which includes three students, five parents, and two administrators.
Cecy Cardenas '20, a member of the task force, enjoys having her and other students' voices be heard by the CCHS administration. 
"I was honored to be invited to be on the Task Force this year, and I hope that this accomplishes my goal at least of voicing my opinions and my peers' opinions as well," Cardenas said. "I think that consulting students' opinions on student matters is paramount."
While no major changes have been discussed yet, Cardenas hopes the task force will increase student input and grow channels of communication throughout CCHS.
"I think that there will be more effort made to increase the student body's input on ways to solve problems within our school community," Cardenas said. "I believe it will be very effective in decisions made on how to communicate things to our school."
Parents also appreciate inclusion in the communication process. Mrs. Tanya Letuli, a task force member and CCHS parent, believe the increasing communication is a step in the right direction.
"I'm really excited the task force was created because it will definitely help with everyone's feelings, and I think that's a huge part of decision making, just getting to know how different people feel about issues happening," Mrs. Letuli said. 
Another parent on the task force, Mr. Frank Fazio, hopes the task force will facilitate more direct communication between students, parents, and administration. 
"I hope to see open communication and dialogue," Mr. Fazio said. "I hope to also see transparency so that the school can clearly communicate with the students and the parents on all matters that pertain to the community that is [CCHS]." 
The task force will discuss policies that have the potential to become controversial, while administrative changes will be implemented by CCHS without task force input. 
"Let's say we were going to change the bell schedule," Dr. Calkins said. "That's an administrative decision that happens in the course of a school day. We are addressing how we balance the responsibility as administrators to run a school and make decisions without having to ask everyone for permission, and at the same time acknowledge we are in a community."
Striking the balance between effectively running CCHS and consulting the student body is a constantly evolving process that the task force is handling. Allowing the opportunity for other people to offer input and say their piece is a key aspect of the increase in communication. 
Another feature of the task force is to avoid surprises and miscommunications from happenings on campus in regards to policy changes. By making sure everyone is aware, students and parents are able to give input on pressing matters. Even if the administration does not agree, the voices of those who have counterpoints will be heard, Dr. Calkins said.
"The goal is that at the end of our conversations, we're going to communicate to the entire school community what the results of the task force are and what we promise to do going forward," Dr. Calkins said. 
Along with communicating the results of each meeting, Dr. Calkins hopes the task force will help the CCHS community grow. By listening to those with different viewpoints, Dr. Calkins envisions increased unity on campus.
"I think it'll make us a stronger community," Dr. Calkins said. "When we put together this task force I didn't cherry pick people who were pro no-skirts. There are  people in that committee who were very against that decision.

"What that demonstrates to me is that despite our differences, despite our disagreements, we can come together and have dialogue and conversation with people we disagree with."
The participation in this task force is not just limited to those invited to be members, as students on campus have agency in communicating their needs and desires. 
"The students' voice is important and the students' input is necessary to what happens at [CCHS]," Dr. Calkins said.