Donating blood today, saving lives tomorrow
Hang on for a minute...we're trying to find some more stories you might like.
More stories from Eugenia Dominguez-Chaires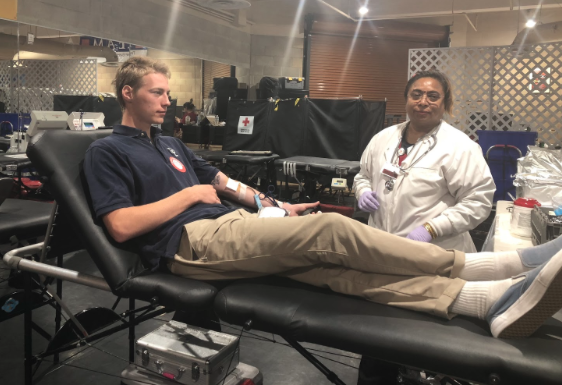 Cathedral Catholic High School student Marcelo Aguilar '18 never considered the importance of maintaining San Diego's blood supply until the day a distracted driver slammed into his grandmother's car.
"Ever since my grandma had that incident, I donate blood every year to help other people who are in the same situation as someone I love was once in," Aguilar said.
To supplement San Diego's dwindling blood supply, Cathedral Catholic High School and the Red Cross Club hosted its annual blood drive yesterday in the Green Room, giving CCHS students the opportunity to donate blood as part of their civic duty.

The total pints of blood donated by CCHS students yesterday was unavailable at press time.
As the morning started, slots quickly filled up to donate whole blood and double reds.

"The blood donations help so many people [that] it is unbelievable," said Mrs. Brittney Cairns, who moderates the CCHS Red Cross Club. "Blood donations are shipped to hospitals after being tested and processed. These donations can help any person in need of a blood transfusion in emergencies."
People like Aguilar's grandmother.

According to the American Red Cross, someone in the U.S. needs blood every two seconds, which requires approximately 36,000 units of red blood cells every day. The process of donating blood is complex, mainly because it requires FDA approval, specific requirements, and many volunteers and donors.

"Donating blood benefits a lot of people who are in hospitals or in desperate need of blood," said Ms. Bianca Marsh, a San Diego State University nurse who helped organize the blood drive. "I've been a nurse for five years now, and it's amazing being able to work in my community for a good cause."

CCHS students under 16 years old needed to obtain parental consent as well as to fulfill weight and height requirements in order to donate blood, Ms. Marsh said. 

Donating blood is especially beneficial to people battling cancer or surviving car accidents. Many people who undergo chemotherapy need blood to get through their treatments. In addition, officials estimate that a single car accident victim can require as many as 100 pints of blood.

"I wanted to give blood because it's a good opportunity to help someone that needs it more than I do," CCHS student and first-time blood donor Sierra Dunphy '19 said.
CCHS students did not fail to give back to their community this year, opening their hearts and donating their blood to make the world a little bit better place.

"I hope students learn about how valuable their donations are," Mrs. Cairns said. "It is such an important thing to do for other [people]." 



About the Writer
Eugenia Dominguez-Chaires, Public Relations/ Advertising Manager
Returning to El Cid for the second year, bringing new media aspects and allowing El Cid's name to shine both within the community and outside the community rank as my top priorities as the Public Relations and Advertising Manager. As a bright and bubbly senior at Cathedral Catholic High School, I enjoy reading intellectually quenching books in addition to writing and exploring media platforms on my fashion blog in my spare time. From a young age, literature opened me up to an entirely new world of genres, specifically journalism. Throughout my high school writing career, I have been fortunate enough to explore my strengths within a variety of journalism branches. As I start my senior year, I plan to reinforce my writing strengths through the Public Relations Manager of El Cid. Consequently I hope to study a major in Communication Science in college, applying everything I have learned while being at El Cid. As a journalist and a human, my job as teller of events rather than a watcher rings true. To a journalist, stories happen every day, at every minute. As a result, I decided this year to be a teller, a responsibility I plan to fulfill by giving my absolute best to every story.