Local today, international tomorrow
Hang on for a minute...we're trying to find some more stories you might like.
More stories from Eugenia Dominguez-Chaires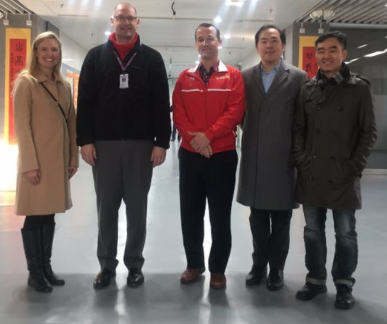 Culture should have no boundaries if one is open to experiencing its beauty and uniqueness.
Toward this end, Cathedral Catholic High School Principal Mr. Kevin Calkins and CCHS Admissions Director Ms. Elizabeth Tysor traveled recently to China to explore new opportunities for both Chinese and CCHS students in hopes of igniting a cultural shift and establishing closer educational ties between the Del Mar-area school and Zhongguo.
"There was a perception on campus that we needed to do more to expose our kids to global issues," Mr. Calkins said. "There was this idea on campus that we are a great school, but our experience here doesn't mirror the societal changes that we are becoming more global and more diverse."
As a result, CCHS has instituted programs like the Spain and France immersion trips to expose students to different cultures. However, the CCHS administration recognized that more needs to be done.
For this reason, Mr. Calkins and Ms. Tysor took a trip to establish a China program at CCHS.
"There were really two objectives," Ms. Tysor said. "The first being to get Cathedral's name out there and more well-known. The other objective of the trip was to explore opportunities for Cathedral students to learn about China and its culture."
To begin, Mr. Calkins instituted Chinese Genius workshops last year, which are open to all CCHS students who would like to learn more about Chinese culture.
"We actually took a couple of trips, and we went to San Francisco and visited Chinatown, a museum called the San Diego Chinese Historical Museum, where I actually learned that San Diego used to have a Chinatown, and the China center at UCSD," Mr. Calkins said.
The point of these workshops is not only to include Chinese students into the larger CCHS community and celebrate their culture, but also to expose other students to it.
The Chinese Genius workshops are a huge success, pushing students like Emily Gonzalez '19 to want more out of an immersion experience, which is what prompted her trip to Taiwan to learn the language and the culture.
"As the admissions director, I was commonly asked if we offered Mandarin as a language, and I'd have to say 'no,' " Ms. Tysor said. "I feel like the interest from parents really just pushed us to add the language, and so far, it's been a success."
However, Mr. Calkins explained that adding a language is not enough, and in order to teach fluency, educators must teach culture, as well. For this reason, administration investigated other educational opportunities to offer at CCHS.
"China initially wasn't on my radar, but I was completely blown away by the country, people, and culture, which exceeded my expectations," Ms. Tysor said. "I immediately thought it was something CCHS students had to experience as well."
During the trip, Mr. Calkins and Ms. Tysor visited middle schools and high schools to promote CCHS. They also visited China's top universities, Tsinghua and Fudan, where they received information for CCHS students who are interested in attending college in China.
According to Quora, the chances of getting into Tsinghua as a domestic student based on a Gao Kao score is around 0.1 percent. Many Chinese students strive to get into these schools. However, keen competition prohibits them from making the cut.
During a meeting with Mr. Calkins and Ms. Tysor, university officials revealed they are looking to increase the number of international students attending their institutions of higher learning, meaning international students, such as CCHS seniors, have a better chance of getting accepted, Ms. Tysor said.
With this information, CCHS can now steer students who would like to study abroad toward these Chinese universities.
"The idea now is to send out students to China, to practice the language, do touristy things, but more than anything experience the beauty that China has to offer," Mr. Calkins said.
The CCHS administration now is working with its connections to develop a China program at CCHS. The end result of that effort is unknown at this point, but CCHS administrators hope to make a return trip to China in a couple of years to solidify details.
Not only did they focus on work, but Mr. Calkins and Ms. Tysor also met with the parents of Frank Min '20, Bonnie Yu '18, and Michael Wang '19, who are Chinese students currently studying at CCHS. This liaison allowed the principal and admissions director to not only see the tourist sights, but it also provided them with a link to the local side of China, Mr. Calkins said.
"We now have a better understanding of Chinese culture so we can create that here for our Chinese students and become a more culturally diverse campus," Mr. Calkins said. "My perception of China has completely changed for the positive. I feel so blessed to have experienced something as amazing as our trip."