Cathedral Catholic College
Hang on for a minute...we're trying to find some more stories you might like.
Cathedral Catholic High School prides itself on having fully prepared its graduates for a college environment, but that environment will soon be available to students before they leave campus for the last time. Beginning next school year, CCHS will offer four dual-enrollment courses on campus in partnership with San Diego Miramar College.
"CCHS has always looked for new opportunities for students to challenge themselves, whether that be with iPads or AP classes," Mr. Frank Caro said, "and this seems like the next logical step in that challenge."
The four courses offered will replace AP Psychology and AP U.S. History, two AP classes typically taken by upperclassmen. Because the courses are formatted as Miramar courses, the former year-long classes will be split into semesters, with current CCHS teacher Mr. Don DeAngelo teaching U.S. History 109 and 110, and Mr. Caro teaching Psychology 101 and 245.
"Students will be starting their Bachelor's degrees here at CCHS," Director of Counseling Mrs. Ashley Bascom said, "which is a unique opportunity."
The new program differs from current college course offerings at CCHS due to the dual-credit nature. Currently, students can take UCSD or Miramar classes on the CCHS campus, but they are taught by adjunct professors, not CCHS faculty. AP classes are also offered, but the only way to receive college credit for them is by passing the AP test in May. Even if a student earns a four or five on the exam, some colleges do not accept the credits.
Through this program, upon successful completion of each semester, students will receive three college credits from Miramar as well as CCHS credits. Rather than having to pass the cumulative AP test in May, students will simply receive the credits for the classes they pass.
These credits will be transferable to the UC and CSU systems, as well as some out-of-state and private colleges. Additionally, these courses will be weighted on a 5.0 scale, similar to AP classes.
"I think it's great that I get the credit I deserve if I pass the class," Riley Edwards '17 said. "It's nice that I'm not being judged on how well I do on the AP test."
CCHS teachers who have their master's degree in the subject they teach are eligible to teach at both the high school and college level, enabling them to teach in this program. Both Mr. Caro and Mr. DeAngelo have prior experience teaching at the college level, which has given them insight into the best way to teach their respective classes.
"The students are going to get a lot more out of it because we won't be bound to the AP curriculum," Mr. DeAngelo said. "The extra month and a half will help us learn about the things that we otherwise aren't able to in the AP time crunch."
Both teachers expressed excitement over being given the freedom to adjust the classes to the students and their preferences.
"Students are generally more interested in Abnormal Psych, so we get to devote a whole semester to that rather than just a few chapters," Mr. Caro said.
Although the teachers are given more freedom, the students will be held to a more rigorous standard than high school level expectations.
"There's definitely a different level of responsibility," Miramar's Dean of Liberal Arts Mr. Lou Ascione, Ph.D., who has been working with CCHS to facilitate the program, said. "Students will learn quickly that college is really demanding but really rewarding."
Mr. Ascione also stressed the importance of exposing high school students to college level rigor before they graduate. This difference in difficulty will be present in Mr. DeAngelo's classes, where rather than writing one junior year research paper, students will be expected to write one paper per semester that discusses the material learned. This will give students the opportunity to learn more about a new subject in depth.
"You don't want to go into a major at a college and realize you hate it," Mr. Ascione said. "It's better to learn what you like and don't like before you even leave."
Mrs. Bascom cautioned students that, while the classes will be taught on the CCHS campus, they are real college courses.
"When you finish, you have a transcript to take with you," she said. "It's your first college grade, so you want to do your best."
Having both a college and a high school transcript can give students an advantage in the increasingly competitive college admissions environment.
Many schools, including Scripps Ranch High School, Mira Mesa High School, and University City High School are already giving their students a "head start" by partnering with Miramar to offer dual-enrollment courses. However, CCHS is unique in offering college courses taught by full-time CCHS faculty.
"The teachers' passion really brought this program to CCHS," Mrs. Bascom said. "They've really encouraged the program to begin and grow."
CCHS hopes to expand its dual-credit program for future years, but it is starting small with these four classes. There is already a significant student interest in these programs, with almost 250 students registered for psychology courses and nearly 50 registered for U.S. history classes. Students can register for these classes until the end of the school year. For now, students and faculty are looking forward to teaching and participating in these unique classes.
"I feel so lucky to go to a school where I can start college so early," Cristina Pedler '17 said. "It gives a whole new meaning to the term 'college prep.' "

About the Writer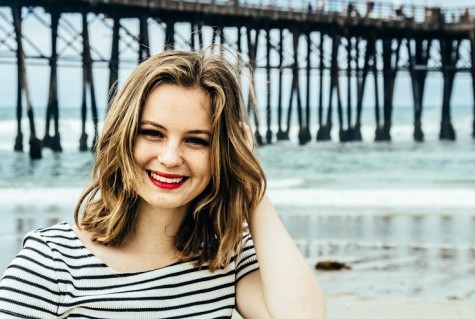 Melissa Vorndran, Copy Editor
Hello, my name is Melissa Vorndran, and I am a senior here at Cathedral Catholic. This is my first year on the El Cid staff, but I am so excited to see where this year takes me! I look forward to gaining experience in writing, which is something I've always loved. Here at Cathedral, I...