Uber spikes in popularity among students across San Diego county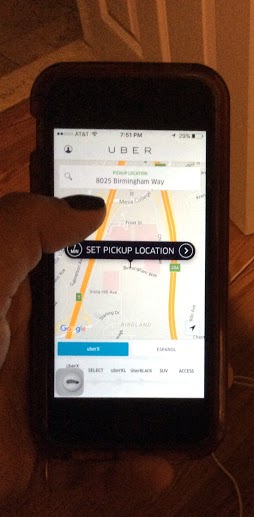 Hang on for a minute...we're trying to find some more stories you might like.
Thanks to taxis, people around the world can, at their own convenience, pay for a service to transport them to any destination such as an airport, a home, or a restaurant. But with a newer, more popular service called Uber, individuals and families can make their travel plans easier and more economical.

"I started using Uber because it's an easy way to move around, and it's not very expensive," Cathedral Catholic High School student Kimberly Taboada '16 said.

Created in 2009 by entrepreneurs Garett Camp and Travis Kalanick, Uber has become a billion dollar company since its launch. Offering its customers an easier and cheaper alternative to a taxi, Uber has proven itself successful, competing not only with standard taxis, but also with companies like Lyft and SideCar, two businesses that provide similar services as Uber.

"I use Uber because I think it's more reliable than other random apps, but I have also used taxis before and they are good too, just not as easy to access like Uber," Torrey Pines High School student Natasha Mouannes '16 said.

Uber has become especially popular among licensed and unlicensed teenagers, who use the service to attend sporting events or to go to the mall. Another common reason to use Uber is to get home safely from events such as parties and concerts.

"I heard about Uber about a year and a half ago when my brother wanted to go to a party, but I couldn't give him a ride, " Athena Zander '16, a high school student at Francis Parker, said. "It's super convenient and nice to have, but as a girl, I don't ever want to take one at night alone."

Uber does not require special licenses, making a job as an Uber driver that much more attainable by men and women alike. However, this situation has caused some people to speak out against Uber, especially taxicab drivers who feel taken advantage of by the new company.

"I don't really think Uber is that safe, but I use it anyways because it is easiest," Our Lady of Peace student Stephanie Elliot '16 said.

Like most start-up companies, Uber took years to establish itself, and especially to distinguish itself among its competitors. The Uber app was released shortly after Uber began, and in 2012, Uber became international. By late 2015, Uber was estimated to be worth $62.5 billion.

Although there are downsides to using Uber, especially under the age of 18 years old, many students across San Diego County consider it the best, cheapest and relatively safest alternative to a ride from a friend or a family member.
Uber continues to grow in numbers and popularity, as more people sign up to become drivers and an increasing amount of people take advantage of the company's quality service.