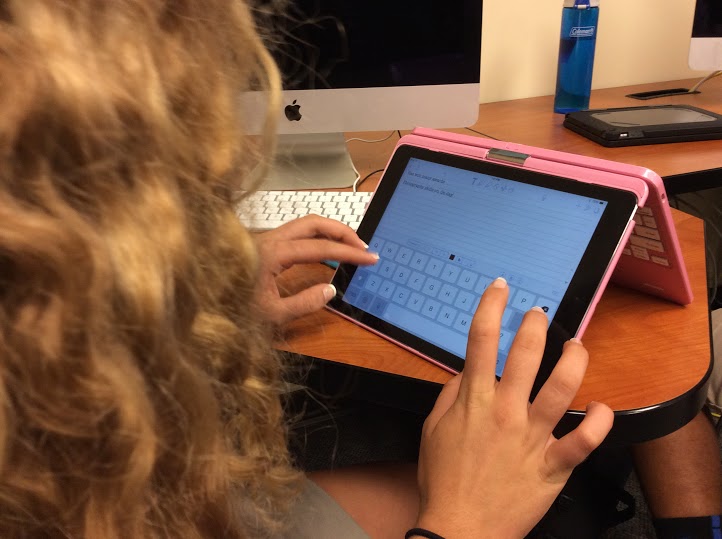 Photo by Ann Woo
Apple renewed Cathedral Catholic High School's Distinguished Schools Award for the second term, highlighting the success of the school's continued efforts to provide the productive academic power of technology to its students.
"The award is for overall excellence with the one-to-one program, and also in our leadership – [that is], the leadership of the faculty and administration," Director for the Center of Innovation Mrs. Kathy Garcia said.
Apple noticed the school's one-to-one program almost as soon as it started in 2012 and quickly came to evaluate the program, giving it the gold star of approval: the title of "Distinguished School."
Besides recognizing the school's leadership and innovation, admission to the Distinguished School program also gives CCHS faculty members and administrators the opportunity to visit other schools as a learning experience. Hopefully, these visits will allow CCHS to implement new, more effective teaching strategies using iPads.
Likewise, CCHS also will get the chance to host other schools and showcase their iPad learning techniques and application of the one-to-one iPad program.
"We will host yearly, or sometimes two-times-yearly visits for other schools to come and see our school, to learn from us," Mrs. Garcia said. "So it kind of opens up a collaboration among distinguished schools."
So what does CCHS have to look forward to in the future?
"One thing I think we are continuing to work on is becoming more paperless," Mrs. Garcia said.
In the future, Mrs. Garcia hopes CCHS will become a completely paperless school, something the Center of Innovation spearheaded last year with the removal of printers for student use on campus.
Mrs. Garcia also mentioned that eventually CCHS students and teachers will have more opportunities to take advantage of updated educational techniques, such as "flipping" the classroom. The "flipped classroom" teaching outline will allow students to learn material at home, and review the material in class with the guidance and assistance of their teacher. The only unknown, however, is the reaction students will have to this alternate classroom style.