Drama to 'open eyes' with Thoroughly Modern Millie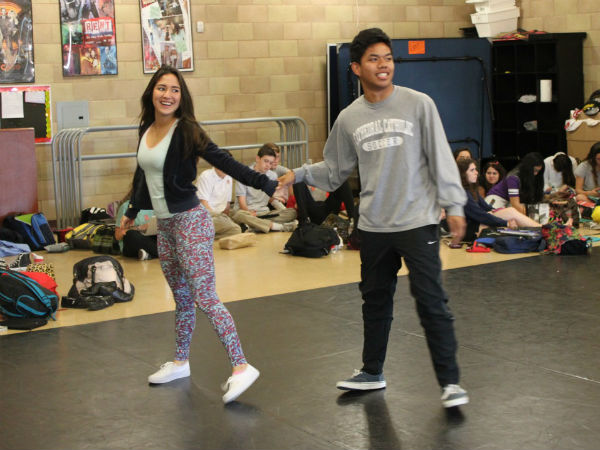 It's no secret our very own Cathedral Catholic High School's Drama program is successful; just last year, they received three National Youth Arts Awards for their fall production of Little Women.
Along with being the only high school drama program named to San Diego's A List in the Best Theater Group category, they also placed 3rd ahead of the prestigious La Jolla Playhouse. But this Spring, the drama program is looking forward to a different kind of play, Thoroughly Modern Millie.
The play was adapted for the Broadway Stage in 2002 from the popular 60's film set in 1922. Senior lead Chase Hauser said, "It is much different than other plays we have done in that it is more of a classical 'Broadway' show- it contains big tap dancing numbers, fantastic sets, and wide vocal ranges. It will be a challenge, but we will rise to it and enjoy it thoroughly!"
Thoroughly Modern Millie follows a young small town girl who moves to New York City in 1922 in the pursuit of a new life, ideally one where she would be marrying her wealthy boss.
Senior Maria Starling, who will play Millie Dillmount, describes her relatable character as "somewhat quirky but definitely lovable. In a way, she is a dork that tries to pretend that she has everything under control, when really she's just as confused as anyone else,"
Along with the general enthusiasm an actress feels from snagging a lead, Maria gained a deeper connection with Millie.
"I can genuinely see Millie in myself, and I think that's why I wanted the role so badly -because I built a type of relationship with her almost with a sense of dependency to use her as an outlet," said Maria.
Even though Millie will be Maria's first lead, she is no stranger to the stage. "I've been in Hairspray and Little Shop of Horrors at Cathedral, and before then, I was in numerous middle school productions and lots of dance shows," said Maria.
Accompanying Millie on the stage is Jimmy Smith, portrayed by Chase Hauser. "Jimmy is an eager young man who insists on living each day like it was his last. He is positive and passionate and has more to him than meets the eye!" said Chase.
Chase, too, finds similarities between his character and himself. "I am very much like Jimmy in that my passion is what drives me and keeps me going through life with a positive attitude and a desire to make each day memorable," Chase said.
It seems apparent that the drama program participants are tight knit. Junior Morgan Balke, who has participated in the CCHS drama program since her Freshman year said, "This show means so much to me because I get to share the stage with all of my best friends."
Senior theater veteran Gavin Barba, who has been acting since 6th grade, says his drama peers are close. "They really are a family to me" said Gavin, "Thoroughly Modern Millie is the end of an era for me, the end of the time when I was so blessed with to work with Ms.(Katie) Wilson at CCHS." Gavin hopes to pursue the arts long after High school, if not as a primary profession.
The play was chosen because of its challenging but rewarding talent demands, "I wanted to challenge my students….and myself….by stepping outside our comfort zone and trying something we have never attempted before," Ms.Wilson said.
Having faith in her students as always, she trusts they can handle the level of demand it requires, "This book and score require a level of acting and singing and dancing that we have never known….until now!" said Ms.Wilson.
On top of her already extensive resume, Ms.Wilson has experience with this specific show. "I have directed and appeared in the show before….and I saw it on Broadway four times!   I adore it, and know our students and CCHS community and friends will as well!" she said.
"People should go see it because its a wonderful show and so much love and hard work goes into it that no one could ever realize," said Gavin Barba. The show will be April 12-20th, 2013, with several show times. Tickets can be purchased online.
"I think the audience will really enjoy this show and take away lots of catchy music that will be sure to get stuck in their heads. I hope everyone comes to see this show because it will be fabulous, and they won't regret it," said Morgan Balke. who has participated in the CCHS drama program since her Freshman year in the productionHairspray.
Chase Hauser said, "The audience will take away a spark in them that will inspire them to look at the world with hopeful eyes and see all of the opportunities it offers."
About the Writer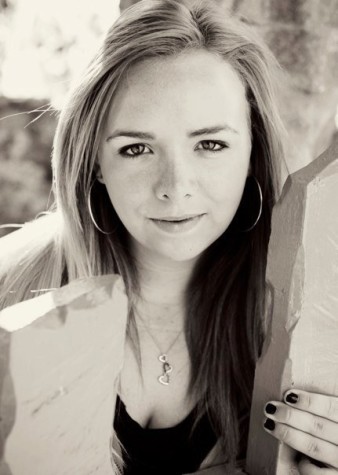 Lauren Hughes, Staff Writer
My name is Lauren Hughes, I am currently a junior at Cathedral Catholic. I am so excited to contribute to El Cid, as I love to write and enjoy the news...