A Guide to Catholic Holy Week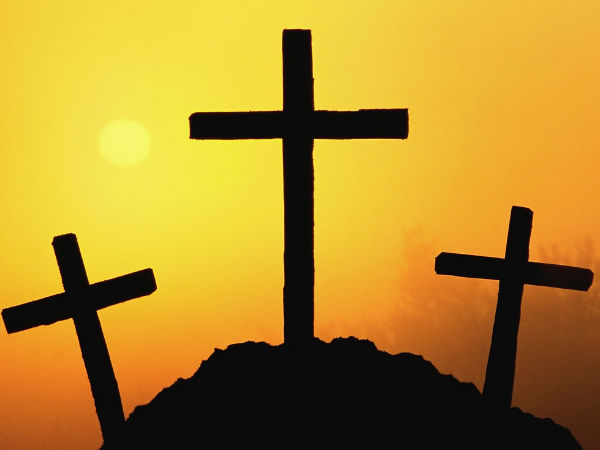 Hang on for a minute...we're trying to find some more stories you might like.
Holy Week commences April 1st, 2012 as Easter draws near and the Lenten season comes to an end. Holy Week, the last week of Lent, includes Palm Sunday, Holy Monday, Holy Tuesday, Holy Wednesday, Holy Thursday, Good Friday, and Holy Saturday.
Palm Sunday opens Holy Week with the Passion of Christ and the commemoration of Jesus' arrival in Jerusalem. Palms Sunday is named after the palms that were set on Jesus' path as He entered Jerusalem.  On this day, palm fronds tied into crosses are handed out to churchgoers.
Holy Monday precedes the commemoration of the death and resurrection of Jesus. Events that occurred on the day of Biblical Holy Monday include the cursing of the fig tree (Matthew 21:18-22, Mark 11:20-26) and the questioning of Jesus' authority (21:23-27).  These passages are traditionally read during church services.
After Holy Monday comes Holy Tuesday, during which Isaiah 49:1-6; Psalm 71:1-6, 71:15, 71:17; 1 Corinthians 1:18-31; and John 13:21-33, 13:36-38 are traditionally read.
Holy Wednesday is the following day, and refers to the betrayal of Jesus by Judas Iscariot, written about in each of these three gospels:  Matthew 26:14-16, Mark 14:10-12, Luke 22:3-6.
Holy Thursday, or Maundy Thursday, celebrates Christ's institution of the Eucharist and priesthood at the Last Supper. The Last Supper was also Christ's farewell to the Apostles.  On this day in church, parishioners will likely notice any Palm Sunday decorations being removed in preparation for the upcoming Good Friday services.
Good Friday commemorates Jesus' arrest, trial, crucifixion, suffering, death, and burial.  This day involves a series of readings, including the Passion from the Gospel of John. Mass is not celebrated on this day and Good Friday is treated as a day of fasting, traditionally including only one full meal.
On Holy Saturday, preparation for Easter takes place, and the Easter celebration begins after sundown. Mass is not celebrated on Holy Saturday, and Easter Sunday arrives at last the next day.
Information from:
Abunamike. "Great Holy Monday, Tuesday, and Wednesday." Royal Doors. 25 Mar. 2012. Web. 29 Mar. 2012.
Richert, Scott P. "When Is Holy Thursday 2012?" About.com Catholicism. About.com, 2012. Web. 29 Mar. 2012.
Richert, Scott P. "When Is Holy Thursday 2012?" About.com Catholicism. 2012. Web. 29 Mar. 2012.