Jamba Juice new to food court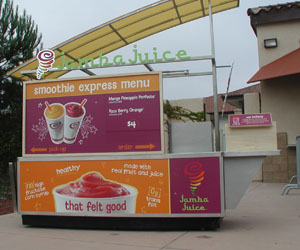 Nina Holtz, Special Sections Editor
October 21, 2010
Hang on for a minute...we're trying to find some more stories you might like.
Cathedral Catholic's food provider, Sedexo, permanently installed a small Jamba Juice stand in the food court two weeks ago. Now, students can buy smoothies from the station for four dollars during lunch.
According to Sedexo's general manager Katie Randall, the cart currently serves only two flavors of Jamba Juice, yet will upgrade to three in December, and to four later in the year. However, only one cup size will ever be offered due to a need to follow nutritional codes.
Cathedral initially agreed to establish the stand when the school signed with Sedexo. Sedexo purchased the Jamba Juice franchise for 25 thousand dollars, and guaranteed the machine in their contract. "It's in our contract as Sedexo to provide Jamba Juice for you guys," said Randall.
Cathedral is the third school in the nation to have the same Jamba Juice cart prototype, according to Randall. Besides the three campuses, other places that utilize the stand are the New York and JFK airports.
Facing the food court, the cart is situated to the left of Sedexo's kitchens. The unit is basically comprised of a two large "Slurpee-machine"-like chambers that store and freeze the smoothies.
"The smoothies are actually created for this specific machine. The machine takes the mixture and freezes it inside. It's the same product you get at Jamba Juice, but in just a different form," said Randall.
"I was very excited to see the cart. In fact, I was one of the first people to tackle someone to get one," said freshman Juan Pablo Moriscal.
"I have to be honest, the first time I tried it, it was like soup. The taste was good, but the texture wasn't there. I would be satisfied with the price if the texture was better," said senior Laura Martinez.
Responding to the texture issue, Randall said that the smoothies are prepared and stored before lunch in order to efficiently serve all people in line.
"It's either the line gets really long, and we don't get to every single person in line, or the smoothie's a little bit softer than it would be at Jamba Juice. It can't be 100% perfect, otherwise students would complain about the wait time," said Randall.
Another concern of students is the price. "It cost four dollars for a small, and I think at the store you can get a medium for four dollars, so that doesn't really make sense to me. I can get chicken tenders and fries here for four bucks, instead of just a small drink," said junior Frank Fink.
According to Randall, the smoothie prices are five cents higher than those at Jamba Juice. Customers pay $3.95 for a small smoothie at the store, while at the cart students pay four dollars.