Dons defeat Vikings
Hang on for a minute...we're trying to find some more stories you might like.
The Cathedral Catholic High School boys water polo team defeated La Jolla High School 11-8 in today's match.
CCHS (8-7) hosted LJHS (12-3) today at the CCHS aquatic center. Last time the teams met, CCHS edged out LJHS 10-5.
The Dons exhibited strong offense and solid defense, giving them a slight advantage against LJHS.
"With how strong our offense is, limiting the goals we let up will help us win any game," CCHS player Tyler Zarcu '21 said. "We forced them to shoot from positions they weren't comfortable in."
CCHS put pressure on LJHS, forcing them to make errors. This advantage would prove to be key for CCHS as they slid past LJHS.
The Dons express a common goal for the rest of the season.
"Our goal is to win CIF and to finish the season undefeated," Zarcu said.
CCHS takes on Coronado High School this Friday as they come into the home stretch of their schedule.

About the Writer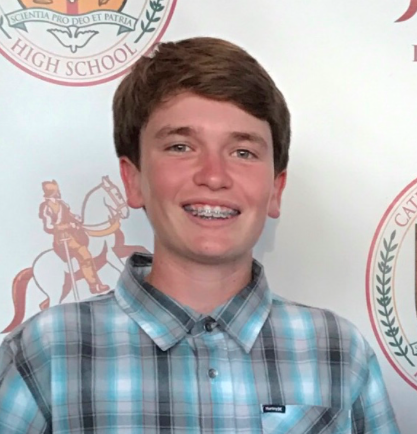 Shea Linnehan, Assistant Sports Editor
As Assistant Sports Editor for Cathedral Catholic High School's student newspaper, El Cid, I look forward to working with my fellow students who have a similar passion as me. I aim to become a better writer and to bring more publicity to El Cid this year. Journalism has inspired me to pursue a career in reporting as a sports writer or analyst. My talents match those of a Sports Editor and my passions of baseball and basketball should benefit my writing. Covering sports events, writing player profiles, and analyzing upcoming games consist of my role as Assistant Sports Editor. I aspire to better my writing ability and El Cid this year, along with giving the students at CCHS the coverage they deserve.