The Real American Epidemic
The media and news have recently been filled with depressing stories covering continuous mass shootings. As more and more lives are lost, little to no change occurs in preventing the many deaths. These national shootings are only becoming more frequent in today's society.
Recently, a shooting occurred in a local mall in Allen, Texas. The gunman, Mauricio Garcia, 33, entered the mall with eight weapons on him. He started firing in the parking lot of Allen Premium Outlets and then later making his way through the mall. Just after four minutes of horror and devastation, an Allen police officer fatally shot Garcia. Sadly, eight lives were lost during this shooting, one being as young as three years old. Seven more were severely injured. This shooting, which was named the second most deadliest shooting in 2023, is just one of the 208 that have occurred just this year.
In Atlanta Georgia, a man opened fire in a medical waiting room killing one and wounding four others. Two out of the four victims that survived are still in the ICU and are in "critical" condition. The suspect of the shooting is Deion Patterson, 24, pulled out a handgun out of anger due to the medical staff at Northside Medical Midtown Office refusing to give him an anti-anxiety drug. Patterson, after firing, fled the scene. This led to an eight hour long manhunt for the suspect. Patterson is now under custody and awaiting trial.
Another shooting occured in one of the most unexpected places, a 16th birthday party. In Dadeville, Alabama, four people were killed and 32 others were injured at a crowded birthday party. One of the four victims of the shooting was the birthday girl, Alexis Dowdell's, brother, Philstavious Dowdell. The suspect of this horrendous shooting has still not been identified. Six suspected people are currently in custody.
Vice President Kamala Harris released a statement in response to the shooting saying, " Parents shouldn't have to pray that their babies come home safe from school or a birthday party. The majority of Americans, including gun owners, support common sense gun safety laws. We need leaders in state houses and Congress with the courage to step up and act."
In Louisville Kentucky, another tragic mass shooting occurred at a local bank. Five people were killed and eight others were injured. Along with the victims, the suspect was also killed by the police. The suspect also shot a police officer that responded to the gunshots. The mother of the suspect, 25 year old Conner Sturgeon, called 911 after his roommate called her after Conner left a note about what his plans were. The mother told police he had no idea where Conner could have gotten the gun. The family also released a statement saying this was very out of the blue for Conner considering he has never shown any signs of being able to commit such a horrific act.
Earlier this year, a shooting occurred in Monterey Park, not far from Los Angeles. Eleven people were killed and none other were injured after a shooter at a dance hall that was hosting a Lunar New Year celebration. After the gunman entered the first dance studio, he drove to another venue that was also hosting Lunar New Year celebrations. At the second venue, a man named Brandon Tsay wrestled the gun out of the suspects hands. The suspect was found dead in a white van due to self-inflicted gunshots.
These mass shootings were just some of the many that occured this year alone. According to the Gun Violence Archive, there have been more shootings than day in 2023. Americans are now scared as ever due to shootings occurring almost everyday. What is even worse is that these shootings occur in the places many people deem as "safe".
In response to the many mass shootings happening all over the country, President Joe Biden issued an executive order in March that increases background checking on those wanting to buy a firearm. This executive order allows for more possibilities for the government to crack down on those who mean to cause harm to our society. Although these new laws could achieve a more thorough background check system and could stop some criminals, a lot of guns that the shooters are using are purchased illegally. In reality, stricter gun control laws would not totally stop mass shootings. Yet, it would be a step in the right direction.
Leave a Comment
About the Contributor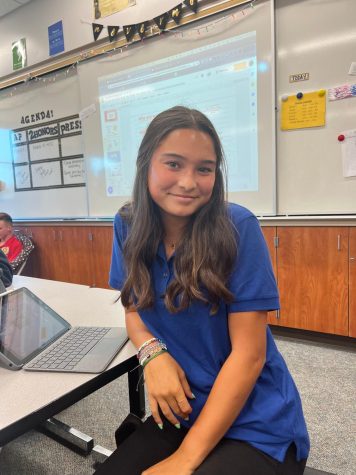 Isabella Durazo, Staffer
Isabella Durazo is a Sophomore at Cathedral Catholic High School and she was born in San Diego. Her hobbies include reading romance books and watching...