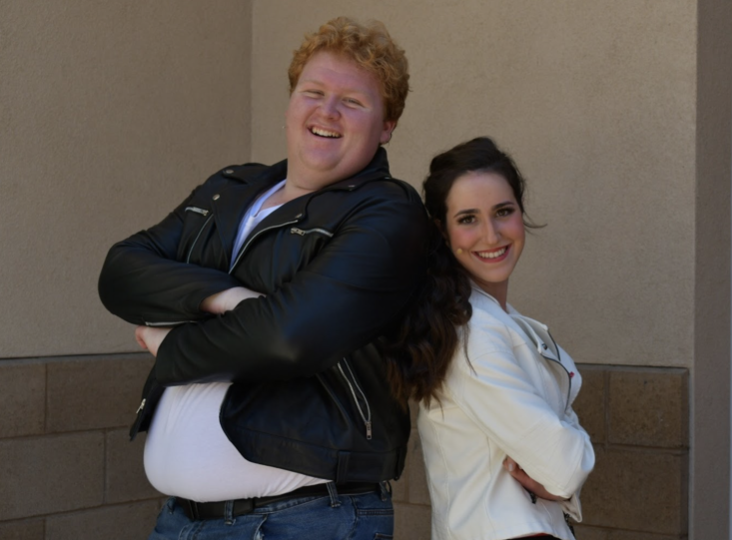 Photo by Maksil Lorenzo '19
The screen flashes with bright colors, and sounds roar to life. The projector starts playing a jungle scene on screen, covered with plants and the faces of Mr. Kevin Hart, Mr. Jack Black, and Mr. Dwayne "The Rock" Johnson. 
"In eighth grade I went and saw Jumanji," Cathedral Catholic High School Student Travis Miller '21 said. "It was at that movie I looked up at the screen and was like, 'I want to do this. This is what I can see me doing in my future. This is what I want to do. I think I can make a career out of this.'" 
From that moment, Miller knew he wanted to be an actor. All the different aspects of acting were appealing. From seeing movie stars such as Chris Pratt at Universal Studios to diving into the many different roles an actor can play, he loves it all, Miller said.
An important part of making the goal of becoming an actor a reality is gaining recognition. As such, Miller is working towards receiving a Screen Actors Guild card and membership in the organization. 
The Screen Actors Guild is the official union for actors who work in film, including other media such as radio and television. In order to become a member of the organization, certain criteria must be met. 
"The screen actor's guild is the union of professional film actors and it's certainly a prestigious situation to be a member," CCHS Drama Teacher Miss Katie Wilson said. "To be a member as a child is a really big thing."
Through her experience in the world of acting, Miss Wilson knows the difficulties in becoming a member. In order to join the Screen Actors Guild, one must either be invited to join or appear in three films and pay induction fees, along with other bureaucratic work. 
Miss Wilson works closely with Miller in his acting endeavors and she sees his determination to succeed on stage and in front of the camera. 
"He's asking questions every day, analyzing scripts, analyzing audition pieces," Miss Wilsons said. "He's constantly wanting to improve to get better to educate himself. Travis loves the collaborative aspect of theater. And he is a perfectionist, he wants to get it right and he will work tirelessly to improve his craft, and not to benefit himself but for the good of the show and team." 
Along with Miller's dedication to acting, he also acts as a team player who wants what is best for the cast and production. 
"Travis cares a lot about the individual behind the person talking to him," CCHS alumna Lauren Alberton '19 said. "It's this dedication in his personal life that makes his acting more in depth and mesmerizing to watch and be near."
Alberton added that Miller carries authority in an inspiring way when working on stage. He knows when to have fun and how to be kind to those around him, while also being talented in both music and acting.
"He'd know when and how to have fun and was always kind and respectful to everyone around him," Alberton said. "Not to mention he's crazy talented. He plays piano really well, his singing voice is beautiful, and his acting is out of this world."
CCHS alumnus Maksil Lorenzo '19 said that he is proud of Miller and how much he has grown in his acting career. 
"He first introduced himself to me during rehearsals for The Diary of Anne Frank," Lorenzo said. "The first words he ever said to me was 'what you do is like magic.'  So to see him going from admiration of a total random who doesn't know what he's doing, to getting his Screen Actors Guild card makes me tear up a little bit with pride."
Outside of CCHS Drama, Miller has parts in several movies. He was a background actor in two films and is working as a lead for a third film. Through his work on the silver screen, Miller is close to obtaining a Screen Actors Guild Card.
Becoming a member of the Screen Actor's Guild is not only prestigious but also a career driver. According to Miller and Miss Wilson, membership in the union allows for more than just fair pay, it acts as a mark of success.
"You need it in order to do bigger films because it guarantees you that you get paid equally, and it also shows that you know what you're doing and that you're the real deal," Miller said. "It opens your world up, but it also does limit you in some ways."
Despite the benefits, there are some minor drawbacks to being a member of the Screen Actors Guild. A primary reason is some directors and movies cast nonunion actors. Howeve,r as a whole there are career benefits to joining, according to Miller. 
Aside from the honor that comes with being a member of the Screen Actors Guild, Miller hopes becoming a member will enable him to do what he is passionate about. 
While he has acted since third grade and also participated in musicals, Miller did not get involved in film acting until his freshman year after he was inspired by Jumanji. His goal has set him on a long path to strive to improve his craft. From tirelessly working on scripts to giving it his all in a performance, Miller has his heart set on becoming a professional actor. 
Even with his talent and drive, Miller has said he does not do it alone and is grateful for all the support given. He loves working with others and wants to raise them up for the good of the show. Unselfish in his goals, Miller plans to move forward and make his dream a reality.
"My goal is to ultimately get into a feature film," Miller said. "Hopefully I can star in my own film and then ultimately get to win some sort of reward. I would love to be recognized because I want to recognize everyone who's helped me so far."