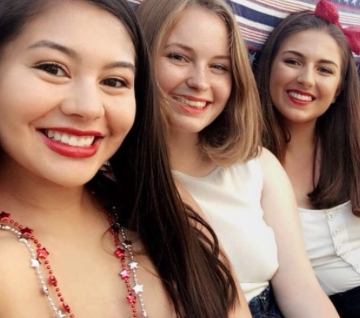 Photo by Julia Way
For Cathedral Catholic High School alumna and former El Cid staff writer Arcelita Martin '16, distance means little when it comes to nurturing her former classmates' passion for writing and visa versa.
"El Cid strengthened my relationships with Julia Way '16 and Melissa Vorndran '16, two friends that I am still in contact with despite us not going to the same college," Ms. Martin said. "It is people like Julia and Melissa that encouraged me to continue writing into my college career."
CCHS alumnae Ms. Martin, Ms. Vorndran, and Ms. Way, who are living in three different places and pursuing three different majors, began their journeys in the CCHS El Cid newsroom, demonstrating that friendship can extend beyond distance as it currently deepens the friendship of these three girls through the shared love of writing.
Ms. Martin, Ms. Vorndran, and Ms. Way, who attend different colleges in Washington, New York, and Pennsylvania respectively, still maintain a close-knit friendship that further developed after writing together on the El Cid staff.
"I knew Arcelita and Julia both before being in journalism with them," Ms. Vorndran said. "However, being on the editorial team with the two of them and being able to help each other with article ideas and editing really strengthened our friendships. Even though we are studying different things, working at El Cid was a common interest and foundation for our friendship.
"We even still send each other articles to edit."
Currently, Ms. Martin attends Gonzaga University, Ms. Vorndran attends Parsons School of Design, and Ms. Way attends Muhlenberg College. Each young woman carries her own unique story and legacy that goes beyond El Cid, and even after having gone vastly different directions educationally after high school, they each attribute much of their success and foundation of learning back to El Cid and CCHS.
"El Cid granted me the time in my high school curriculum to learn the fundamentals of journalism that I have continued to study and practice," Ms. Martin said. "Although they seemed pesky and knit-picky at the time, AP style quizzes gave me a head start when I walked into my first college-level journalism class."
At Gonzaga University, Ms. Martin studies English and journalism, continuing to build off the foundation of reporting El Cid gave her when she joined as a staff writer her senior year.
"I joined El Cid because I knew writing was a passion of mine, and at the time I was looking for outlets to experiment with different kinds of writing," Ms. Martin said. "I am so fulfilled and in love with the storytelling, justice, and learning that comes with journalism."
Ms. Martin, a staff writer for only one school year in high school, experienced a fire completely and utterly lit under her while in the newsroom. Even though Ms. Martin did not fall in love with journalism until she went off to college, El Cid inspired her to pursue the life of a journalist by serving as an introduction to journalism, sparking an absolute awe and desire of the art.
Ms. Martin now writes for The Gonzaga Bulletin, the online, weekly print, student-ran newspaper at Gonzaga University as a news editor.
"Not only is journalism a class, but it is your job, your hobby, and your life," Ms. Martin said. "I love it. Not only do I write stories every week, but I host budget meetings, layout pages, and edit, post, and distribute papers. It's a full-time job, but the most rewarding one yet. People trust me to tell their stories, and that is a huge responsibility that I am so honored to have. Every day I get to talk to strangers and bridge the gap that we as people tend to see between each other.
"It's challenging, mindful, and important work."
Ms. Martin, working toward the life of a journalist after college, absolutely loves everything about the art of writing and reporting.
However, she didn't always wish to pursue journalism.
"When I was younger, I wanted to be a neuroscientist, a psychologist, an author, and back when I was seven, I wanted to be a spy like Carmen in Spy Kids," Ms. Martin said. "That's kind of why I like journalism. I get to learn about and understand a wide variety of topics. I've written about everything from Kenyan priests and walking school buses to students affected by Hurricane Irma and rape allegations against the Florence police.
"By pursuing journalism, I get a taste of everything."
While Ms. Martin continues to pursue journalism in her life after her El Cid experience, Ms. Vorndran, has taken a different route after her time at El Cid, studying Strategic Design Management and Fashion Communications at Parsons School of Design in New York City.
She credits her current educational opportunity back to joining El Cid during her senior year as copy editor.
"I joined El Cid because I had always enjoyed writing and wanted to explore journalism, which was a style of writing I didn't have much experience in," Ms. Vorndran said. "After I joined, we had a need for a copy editor position, and I took it. It was more responsibility than I had initially bargained for with the class, but it gave me a great opportunity to work with the other editors and be able to work on all our content.
"I wouldn't be studying at Parsons if I hadn't developed that love of writing with El Cid."
Currently, Ms. Vorndran writes for the Metropolitan Museum of Art's Met Store Magazine, working as a marketing intern. After college, Ms. Vorndran might pursue a position that combines business and design. Although unsure of what her future holds, Ms. Vorndran knows writing for the Met Store Magazine is a valuable experience.
Just as Ms. Vorndran branched off from journalism to focus on the fashion industry, Ms. Way double majors in theatre with performance concentration and media and communication at Muhlenburg College in Allentown, Pennsylvania.
Contrary to Ms. Martin and Ms. Vorndran who both joined the El Cid staff as seniors, Ms. Way joined El Cid as news editor her junior year, spending two school years in the newsroom.
"I joined El Cid my junior year because I wanted to see if I could picture myself studying something like journalism or communication in college," Ms. Way said. "I always considered myself a fairly good writer, but I wanted to challenge myself and try a style I hadn't tried before. My first year of El Cid really set my life on a different course. As news editor, it was a lot to take on, but with support from the other editors, I think we tackled El Cid really well.
"Most importantly to me, El Cid connected me with so many driven young people and strengthened the connections I already had."
Ms. Way spent the summer before her senior year interning with the San Diego Union-Tribune. Having spent time in internships writing as a journalist, creating content for social media, and being featured in broadcast news, Ms. Way developed a passion for social media and communication.
"I see journalism and writing as a strong suit of mine, and I would love to continue in this line of work in the future," Ms. Way said. "I could also see myself working in marketing or public relations. Ideally, I would be a working actress and journalist, as my passion has always been storytelling. Telling stories that matter, that's what counts."
Despite these three girls' varying future plans, they share a love for writing and flourish as friends who enjoy many of the same activities. Their friendship has developed an unbreakable bond, maintained even from across the country.
"We all share a love for the arts, and I think that has really strengthened our relationship over time," Ms. Martin said. "We love bookstores and theatre and musicians. I actually visited Melissa last year at Parsons and Julia visited me this year at Gonzaga.
"We're a nerdy, happy bunch."
By working together for a common goal in high school, Ms. Martin, Ms. Vorndran, and Ms. Way created a powerful friendship that continues to grow after their experience at El Cid, emphasizing how friendship can exist despite distance.
"Melissa and Arcelita have been very supportive and so influential in my life," Ms. Way said. "It's been a pleasure to see them succeed in their lives beyond El Cid and Cathedral. I'm very proud of the work we did for El Cid."