Standout freshman inspires CCHS family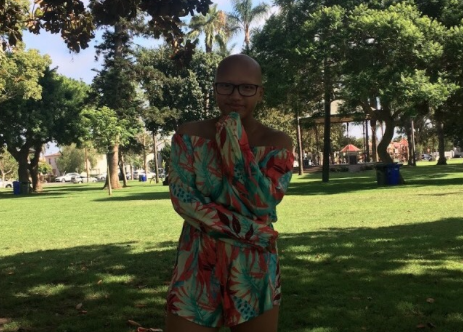 Hang on for a minute...we're trying to find some more stories you might like.



Ugly, ashamed, and fat.
These are words that inhabit many teenagers' minds when comparing themselves to other people. But not for Ysabella Pineda '21, a CCHS student who has lived with alopecia universalis since a young age. 
"I stopped wearing a wig up until fifth grade because I wanted to," Pineda said. "By that time, I had come to accept myself and realize how important it is to love yourself."
Many people, especially teens, live with insecurities in a quest to be accepted. Teens want the perfect skin, perfect body, and perfect hair. However, this mindset is not the case for Pineda.
Although she has struggled and wondered why this condition inflicts her, Pineda has triumphed against the rare disease, and she realizes her story can help other CCHS students who may feel alienated from the crowd.


Alopecia universalis, a rare autoimmune disease that causes the immune system to mistakenly attack hair follicles, touches the lives of children and people in many ways. 

Medical officials estimate that between 318,000 to 636,000 people in the U.S. have the disease, according to Genetic and Rare Disease Information Center.
Alopecia universalis attracts the attention of people, which causes people who fight the disease to deal with insecurities that can break them down in the long run. All CCHS students struggle with insecurities, but Pineda manages to not only inspire people to live in such an amazing way, but she also shares the important lessons she has learned through her actions and attitude.
Pineda is certainly different, but she focuses on the beauty of her uniqueness rather than the insecurities. Starting freshmen year at a new school is not easy, and starting freshmen year with no hair must make that challenge even harder.
Yet, Pineda represents the ideal example on the CCHS campus of what it means to live one's life with courage.


"There was absolutely no difference between Ysabella and the rest of the students," said Mrs. Allison Collins, who serves as Pineda's freshman English teacher. "She fits in perfectly with the rest of her peers. She definitely has inspired me throughout a short amount of time manly because she owns who she is."
There is no difference because unlike most teens in the CCHS community and all around the world, Pineda has overcome the challenge of insecurities, Collins said.
Throughout Pineda's brief time at CCHS, she has inspired not only Mrs. Collins, but also CCHS student Serena Mendoza '21.
"Ysabella is the type of person who brings out the best in others," Mendoza said.
The confidence Pineda exudes despite her hair challenge not has brought out the best in others, but it also drives teachers, students, and the rest of the CCHS community to live like Pineda.
Through her courage, confidence, and kindness, Pineda influences the CCHS students to realize what is actually important. Instead of worrying about other people's appearance and their own appearance, Pineda said students should be focus on loving themselves and spread that self love to other people.
"Although this may sound very cheesy, things do get better eventually," Pineda said. "Everybody should always love themselves."


Pineda is a vibrant, hilarious, and strong young lady the CCHS family is fortunate to have on campus. Despite the difference in her appearance, Pineda is someone who brings warmth and kindness to the campus. 
Through struggles and insecurities, teens often forget to remember the important lessons in life. While students at CCHS may be part of a loving family, they can make the school environment and culture even better by loving themselves first, Pineda said.

"[Ysabella's] a confident individual who is friendly to all," Mrs. Collins said.

About the Writer
Eugenia Dominguez-Chaires, Features Editor
My name is Eugenia Dominguez-Chaires, and I am this year's El Cid features editor. Although some students may mistake me as a freshmen due to my short stature, I am currently a CCHS junior who is perfectly okay because I am tiny, but mighty. I may be a first timer at El Cid, but journalism...