Prestigious Groff Exhibition showcases students' artistic talent
Hang on for a minute...we're trying to find some more stories you might like.
The SDCAEA* Groff Exhibition, headed by the CCHS Art Department chair, Mrs. Silvia Wiedmann, and former 3D Design teacher, Mrs. Alyssa Vallecorsa, opened to the public mid-April. Among a mere fifty-seven art pieces accepted to the Exhibition are three pieces by seniors Liam Ballantyne, Andrea Lowe, and Mary Backes.
Participation in the Groff Exhibition has nearly doubled since its debut in 2014. This year, a total of 239 works of art were submitted from 36 high school art teachers in San Diego County. "That's quite a bit," said Mrs. Wiedmann, and she expects it will continue to grow.
The Groff Exhibition gives high school students the opportunity to showcase their personal artistic style and talent as submission criteria are few, and all mediums of art are accepted. Such variety and originality can be noted among the three CCHS art pieces entered in the Exhibition: an oil pastel, a ceramic sculpture, and a recycled-art inspired piece.
Senior Mary Backes submitted her piece, "Mama Alice," inspired by her summer trip to Uganda in 2014. Mary had gone to Uganda for a mission trip, and she documented her journey by taking photos of the local people. Using one of her photos as reference, Mary created a realistic charcoal portrait. Cutting out the portrait, she pasted it on an oil pastel background of vibrant, warm colors. Mary said the project took about two or three days, "which was pretty fast." It is clear, however, that despite quick execution, she was unwilling to sacrifice the quality of her work. Her artist statement tells the story of her inspiration:
"In the summer of 2014, I was fortunate enough to go on a mission trip to Uganda. While I was there, I became fascinated with the people and their culture. I was inspired to share their stories through my artwork. This specific piece is about a caretaker at an orphanage. There, all of the caretakers are referred to as "mama." The subject of my piece was Mama Alice, who helped care for several children at the orphanage. She was a very quiet and tremendously kind woman. Using charcoal, I captured the sweet gentleness found in her expression. To tell her story, I used oil pastel for the background. The different waves and swirls represent the personalities of the many children she cared for. The orange and yellow smooth waves represent a boy named Joseph who was a mild tempered and quiet boy. The bright red swirls represent Vicky, who had an outgoing and spirited personality. Each line and shape tells the story of a different child that Mama Alice looked after. I wanted to show how these children truly meant everything to her."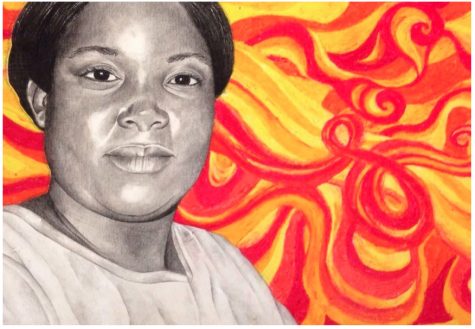 Andrea Lowe sculpted her "Husky Teapot" based on an assignment that called for a teapot that didn't look like teapot, "a teapot in disguise." Andrea began the process by making two hollow spheres, and stacking them on one another to form the head and body. She then made paws, which allowed her teapot to stand, and proceeded to fill in the details. She was careful to stick with the objective of keeping the teapot utility unrevealed – making the tail as the handle and the ear on the opposite side as the spout. Last year in Mrs. Vallecorsa's 3D design class, Andrea had sculpted a cat – one of her favorite art pieces that inspired her to choose an animal theme for her teapot. Andrea intends to major in Animal Science, a passion that she has had the opportunity to express through her art. Her artist statement includes more details about the process of creating the Husky Teapot:
"This is a piece from the Concentration section of my AP 3D Studio Art portfolio. The objective of my concentration is to create functional teapots that look like animals. Each is glazed with a random, patchwork design; the colors of the design are intended to be specific to the type of animal and it's surrounding environment.  For this piece, the Husky teapot, I used the black, white, and gray as the typical colors of husky fur, and I used the varying shades of blue and brown around the eyes to represent the breed's common eye colors.  I utilized the normal parts of the animal as functional pieces of a teapot: the tail is the handle and the ear on the opposite side is the spout."
"Spark Plug Bugs," by Liam Ballantyne, was inspired by an automotive theme. Describing the process, Liam said, "I got old spark plugs from cars, cut sheet metal for the wings, welded the wings onto the spark plugs, and then hung the finished bugs from a hubcap using wire." Though Liam has held an interest in art his entire life, he plans to pursue a degree in mechanical engineering next year at the United States Coast Guard Academy. Though one might assume that engineering and art are on "opposite ends," Liam proves differently in his artist statement:
"The focus of my work, the 'Spark Plug Bugs,' was to combine elements from man-made machinery and nature-given characteristics. By cutting wings out of sheet metal and welding them onto the spark plugs, I was able to achieve the desired bug or fly-like appearance. Because there is never just one fly or bug in any one place at a given time, I created many bugs and hung them with metal wire, keeping with the metal theme. Also keeping with the automotive theme of the spark plugs, I found a used hubcap from a car to use as the hanging point for the bugs. The bugs could then be free to swing and chime in the wind, with the metal wire allowing them to move melodically when they hit each other, but still holding the bugs in place enough to make the bugs look like they are flying when there is no wind."
Mary, Liam, and Andrea's pieces are currently on display at the Groff Exhibition, which is being held at San Diego State University's Downtown Gallery at 725 West Broadway. Jurors Christine Knoke, museum curator, Philip Matzigkeit, interior design professor, and Brain Benfer, artist and art professor, will be selecting first, second, and third place winners. The closing awards reception will take place at the gallery on Sunday, May 3rd from 1:00 to 3:00pm, and the winners of the Exhibition will be announced. The gallery will remain open through May 4th.
*San Diego County Art Education Association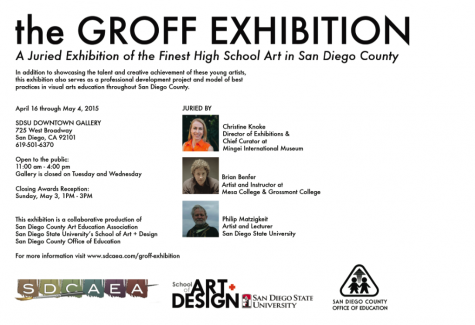 About the Writer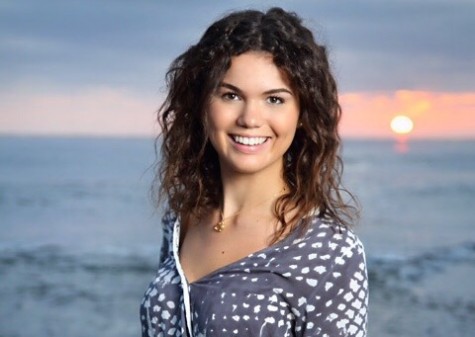 Sarah Scherer, Managing Editor, Opinions Editor
Hello! My name is Sarah Scherer and I'm a senior here at Cathedral. I'm excited to serve as Managing Editor and Opinions Editor this year on El Cid. I have a passion for journalism and I aspire to be a published author. I completed the Georgia Journalism Academy for Editorial Writing in summer 2015, and...