Freshman continues family legacy as ASB president-elect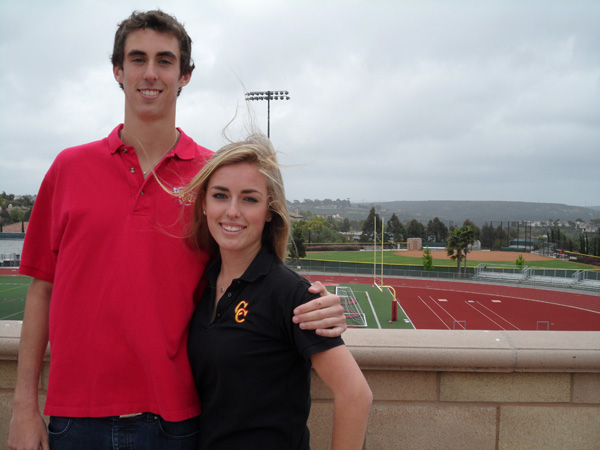 Hang on for a minute...we're trying to find some more stories you might like.
Standing at nearly 5′ 7", freshman Allie Repko has big shoes to fill – those of her 6'7" brother Teddy.
Next school year, Allie will be serving the CCHS community as the sophomore class president, a position that ASB Executive President Teddy Repko once held. She will be continuing what Teddy has proudly labeled the "Repko Dynasty" because eldest Repko Patrick, Teddy, and now Allie have all been a part of ASB at CCHS.
Patrick Repko served as the ASB Executive President during the 2007-2008 school year. Currently, he is a junior at Northeastern University, studying business economics while interning with UBS, one of the largest banking firms in the world.
Both brothers, Teddy and Patrick, have held the same positions while on ASB. Both were class president sophomore year, Commissioner of Public Relations junior year, and Executive President senior year.
"I've always seen my brothers as role models, in both terms of leadership and everyday life. The way they carry themselves and help the school is truly inspiring," said Allie.
Fellow members of ASB also view Teddy in high regards because he is articulate and poised.
"The Repko dynasty is a dynasty of champions. T-Rep is America. Under his tenure, ASB grew from boys to men and managed to stay good-looking everyday," said Executive Treasurer Mike Mezzino, jokingly.
Agreeing with Mezzino, Teddy said, "I feel that being on ASB is the best way for me to express my talents – I'm a natural-born leader, and this is definitely the best way for me to [demonstrate] that."
To say leadership runs in the family is an understatement – with ties to former President John F. Kennedy, both Allie and Teddy strongly feel it is an essential part of their identities. According to Teddy, their grandfather is a second cousin of the Kennedy family, making Patrick, Allie, and Teddy fourth cousins to President Kennedy and his siblings. In addition, Teddy is named after the late senator Ted Kennedy. Like Senator Kennedy, his full name is "Edward," but he is called "Teddy" because of the great namesake.
"I like the name Teddy. I feel that it fits my [outgoing] personality more than Ed or Eddie," said Teddy.
Now a senior, Teddy is excited to continue student government in college, and he plans to pursue a career in either business or politics.
"[Student government] is something that will always be with me, one way or another," said Teddy.
As Executive President, it is Teddy's responsibility to coordinate all ASB-sponsored events, from lunchtime activities to dances and rallies. He said that the most time-consuming and challenging event to plan this year was the Homecoming Dance in October.
He is also a member of the student committee that collaborates with the administration on dress code, and it is his duty to be receptive to student concerns and communicate them to administration.
"To convey student concerns to the administration, I am constantly in contact with [administrators] Mr. (Robert) Tubbs, Mr. (Mike) Deeley, and Mrs. (Marlena) Conroy. Students tell me their concerns, and I am responsible for bringing them to light. ASB also provides comment cards and hosts class representative meetings that are helpful (for these types of interactions)," said Teddy.
Everything ASB plans must also be approved as the administration, and it expects the ASB to lead by example.
"After seeing my brother work as President, I have learned the administration has to approve spirit day events, dances, and other activities. ASB and the administration collaborate on a lot of things, and [ASB] definitely brings interesting ideas to the table from the student perspective. In terms of dress code, the administration looks to the ASB as role models for following the dress code, and the enforcement of the dress code is something that I take seriously," said Allie.
Even though Allie is only a freshman, she feels that she is more than ready to follow in her brothers' footsteps.
"It is good to know that I will be continuing the legacy because I look up to my brothers so much. I [am excited] to serve the school the way they did and rise up to challenge," said Allie.
The class officer elections, held March 29th, were characterized by a lack of candidates. Each office for the senior class only had one candidate, whereas each office for the sophomore class had two candidates for every office except treasurer.
According to the ASB election timeline, freshman candidates were interviewed on March 10th and the candidates were announced to the public on March 17th. Candidates for each office gave speeches March 21st before the election the next week.
Allie attributes her success in the election to her campaigning techniques. She started by writing speeches and then made posters and buttons.
"I really put myself out there, talking to a [variety] of people, relating to them on a different level. In my speech, I made a point that I think it's really important to voice the opinions of my fellow classmates – stepping up to show that I can help the school, adding enthusiasm to dances and rallies," said Allie.
She continued, "As sophomore class president, I plan to be big on taking charge, giving lots of speeches because I enjoy the public speaking aspect of ASB. I plan to help plan and organize dances, listen to the opinions of the sophomore class and share them with ASB, and add school spirit with fellow ASB members. I think that as a girl, I will bring more school spirit than my brothers. I think that it is really important to get the ideas and concerns of the students through the comment cards and class representative meetings, as well as talking to the administration."
Allie will assume her office next fall as a sophomore, but will not be taking the ASB leadership course because it is only offered to juniors and seniors on ASB. Nevertheless, older brother Teddy has high expectations for his little sister.
"With Allie continuing the dynasty, I feel proud and honored that she has the opportunity to serve Cathedral," Teddy said. "I am excited for her great [leadership] potential."