Behind the Scenes: What it's like Getting the Lead
On Friday November 18, 2022, at 3:57 pm, sophomore Grace Howard opened Schoology to find her name staring back at her. Only it wasn't for a dress code violation, homework assignment, or test announcement. It was a post from the CCHS Drama page that read:
"Amélie: The Musical CCHS Drama, Winter 2023- CAST OF CHARACTERS- Amélie………………………………………………….……Grace Howard," and she couldn't have been more ecstatic to have gotten the lead in the school musical.
To give a bit of background, Amelié is a musical that follows the life and growth of a young, French girl. Amelié's goal is to positively impact those around her through anonymous good deeds. As a young girl, she was shielded from the world around her because of her parents' overprotectiveness, which impacted her later in life when it came to creating relationships and eventually falling in love. We see her story, impacts, personal growth and love through many beautifully written and upbeat songs. The original Amelie was played by Phillipa Soo, who also played the original Eliza in Lin Manuel Miranda's Hamilton.
Howard then continues on to elaborate more on her particular role in the show, "Amelie is a character that is filled to the brim with intense imagination and doesn't necessarily have the best people skills, however she is constantly looking out for others anyway. She does whatever she can to help those in need through anonymous acts of Kindness."
Howard's passion for musical theater sparked when she was younger when she "constantly sang and danced around the house." When she grew older her parents immediately began to get her involved in workshops for singing, acting and dancing competitively for 10 years until she was cast in her first performance "Go Dog Go" at Balboa Park when she was a child, and has done theater ever since.
Acting can be an enticing career for most but comes with many challenges such as trying to memorize all the lines and making connections to the characters. Moreover, Howard states the biggest challenge specifically for Amelié would be having to learn and speak small portions of French. Clearly, this lifestyle requires an immense time of preparation and Howard tells us when preparing for her roles, "Studying lines and the music is a very repetitive process. It's a lot of practicing the scenes, songs and lines in order to remember them. Preparing for the plays is a group process though so it's also all about making decisions as a group and growing as well."
A struggle Howard points out is that, "Covid greatly impacted theater for a few years and even now theaters are still taking a while to open, so many actors have not been able to perform at theater companies for a while." However, prior to the pandemic, she performed in a professional production of Matilda at the Moonlight Amphitheater and says, "That, so far, has been one of my favorite performances because it was a
great experience to learn and take notes from professional actors at work."
Having done musical theater since she was just five years old, Howard certainly has an extensive resume, "Footloose, Little Mermaid, Matilda and Annie are just a few of the ones I have done. All Together Now, the best of broadway mash, was the first production I did at CCHS and it was such an amazing opportunity," and I'm sure every single person would agree with Howard when she says, "I really enjoy the community that Ms. Wilson has built, she puts so much effort and love into her shows and it really shows. The casts as well, it's just so much fun when everyone is able to collectively come together and be proud of all the practice and love
they have put it into our show."
Grace Howard is a hard working, dedicated, and avid member of the CCHS Drama program here at Cathedral Catholic High School, and the CCHS community is proud to call her our own. I can not tell you enough to come out and watch this talented young lady and the entire cast perform this winter in CCHS' production of Amélie.
Leave a Comment
About the Contributor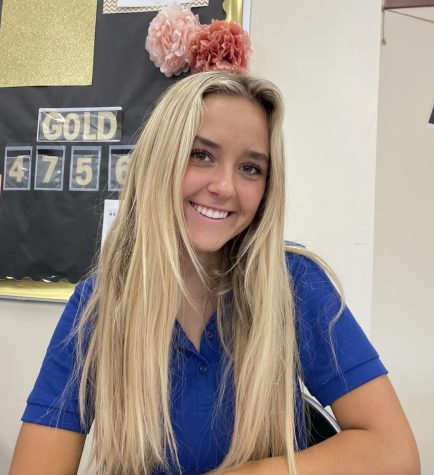 Cassidy Smith, Staffer
Cassidy Smith, first year staffer, cheerleader, and voted "most likely to go Greek," has always. had a passion for writing and is ecstatic to use her...